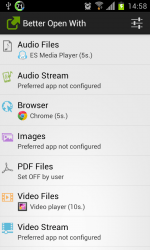 Having too many apps that performs similar functions is okay but it's also a hassle. Why so? It's because your device will frequently show you its "Complete action with" dialog. Therefore, you need to go through this step first before you can open a file or document. Fortunately, you can easily skip all of these for as long as you have the Better Open With app for Android.
What Is It and What Does It Do
Main Functionality
Better Open With is a free app that works like Android's default "Complete action with" dialog. However, this app is a tad bit different. You can configure it in such a way that every time that you open a file, the app will automatically remember the settings that you've made. Plus, it will only show its dialog box for a few seconds. After that, the app will automatically open the file or document using your preferred app. There's no need for you to choose between "only once" and "always".
Pros
Easy to use, easy to configure
Stable and responsive
Neat user interface – supports light and dark themes
Configurable popup screen layout, appearance and countdown time
No additional clicks required
Can be used for opening audio files, audio streams, browsers, images, PDFs, videos and video streams
Cons
None that I can think of but it would be great if the app could add support for additional tasks and file formats such as DOC/DOCX files, spreadsheets, presentations, file archives, etc.
Discussion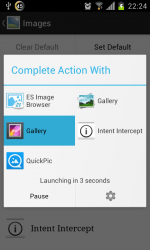 To use Better Open With on your Android, you need to configure it first. After installing the app, launch it from your app drawer. On its main screen, you'll see a list of available options. These options will allow you to configure or set your preferred application for specific tasks and file types. As of now, the app can be used to configure default apps for audio files, audio stream, browser, images, PDF files, video files and video streams. Just click on any item that you want to begin.
For example, if you click "Audio Files" then you will be able to choose the way how you want your device to open and play your audio (MP3, 3GP, etc.) files. If you have two or more apps that can play audio files, then all of them will be included in the list. To set your preferred app handler, just tap the star icon that's located right next to it.
In addition, you can also set your preferred countdown time for the app's popup screen. The default is five seconds but you are free to adjust the time according to your own preference. You can even opt to immediately open the file using your preferred app handler without even showing the app's popup screen.
Once you're done, just toggle the ON/OFF button on the top-right portion to enable or disable the app's handling for specific Android tasks and file types. You can also configure the rest of the app's supported tasks and files in a similar fashion.
If you're using the app for the first time, make sure to set it as your default app first. By doing so, you can completely prevent your Android's default "Complete action with" dialog from appearing on your screen. Instead, your system will just show the list that's provided by Better Open With.
All in all, I can say that Better Open With is really easy to use. Plus, it is also very easy to configure. Its main advantage against Android's default "Complete action with" dialog is that it provides better management for your default app handlers. No need to repeat the same steps over and over again. It's a real time-saver.
Functionality wise, I don't really have any serious issues concerning this app. It's just that it could've been much better if it also included additional support for other file types and document formats (ex. DOC/DOCX files, TXT files, spreadsheets, presentations, ZIP and RAR files, etc.).
Conclusion and Download Link
If you are looking for a better way to manage your default app handlers, I would strongly recommend that you try Better Open With. It is a very reliable app that's free from any annoying glitches and errors. So go ahead and check it out.
Price: Free
Version reviewed: 1.0
Requires: Android 4.0.3 and up
Download size: 370KB
Better Open With on Play Store
Related Posts