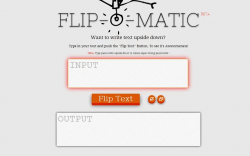 There are many ways to change the format and style of your texts. With the help of simple text editors, you can easily change your text or writing direction from left to right, horizontal to vertical, etc. Now, what if you want to flip your text and turn it upside down? If that is the case, then you can use this simple web app called Flip-O-Matic. Let's find out how it works.
What is it and what does it do
Main Functionality
Flip-O-Matic is a very simple and straightforward web app that you can use to flip your text upside down (and vice versa). After which, you can immediately copy and paste your flipped text to various sites, blogs and social networks such as Facebook, Twitter, Tumblr and even Instagram. The said web app is free to use. It also works on any web browser but it works best in Chrome.
Pros
Very simple and straightforward functionality
Easy to use – just type or enter the text that you want to flip and the flipped text will immediately appear on the output box
You can restore the flipped text back to normal
You can copy and share your flipped text to various sites, social networks and blogs
Ideal for fun reading and other creative purposes – ex. games, reading challenges, events, invitation card printing, etc.
Cons
Needs a reverse text direction button
There is no "share" button – you need to manually copy the inverted text before you can paste and share it to others
Discussion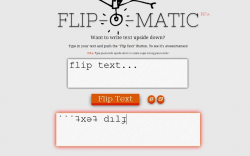 The way how Flip-O-Matic works is a no-brainer. Since its main functionality is to flip your text (in other words, turn it upside down), all you need to do is to load the web app's homepage on your browser. You are not even required to log in or register. You can just use the web app as it is.
So once you're on the web app's homepage, just type or paste the text that you want to turn upside down and that's it. Even if you do not click the "FlipText" button, the web app will automatically flip your text. Once flipped, you can simply click the "Select All" button to copy the entire flipped text. After copying the flipped text, you may share it to others by pasting it on your email or messenger. You can even post and share the inverted text to your Facebook or Twitter account. It's that simple.
All in all, I find Flip-O-Matic really easy to use. It also flaunts a simple yet stable and responsive interface that is free from any annoying glitches and errors. While I don't really have any serious issues concerning this app, it can still be improved by offering more cool features and tools. I also noticed that it lacks the much-needed "share" button. Therefore, you have to manually copy the flipped text before you can share it to others.
Apart from this, the web app also lacks the option to instantly restore the flipped text to normal. Although it is possible, you need to manually copy the flipped text first then you paste it on the input box. It would be nice if you can do this in just a click of a button.
With upside down texts, you can do a lot of fun and challenging tasks. It will also come in handy whenever you need to flip the texts that you wish to print on your invitation cards. In addition to this, you can also use your upside down texts for fun captions and subtitles. You just need to be creative enough to think of interesting ideas.
Anyways, Flip-O-Matic is a web app that you can use whenever you like. It is also available as a free Chrome app.
Conclusion and download link
If you are looking for a quick and simple way to flip your texts upside down, I would recommend that you try Flip-O-Matic. The web app is free to use plus you aren't required to create an account. So, go ahead and check it out.
Price: Free

Version reviewed: 1.1

Requires: Works on Chrome, Firefox, Safari, Opera, etc.

Related Posts