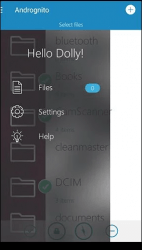 Are you keeping files that you don't wish for others to see? Are those files too sensitive or private to be shared to others? Now, what if you end up in a situation wherein you're left without a choice but to share or lend your phone? Undeniably, there's a risk of exposing your sensitive files. For sure, you don't want that to happen. If you are worried about your privacy, then why don't you check out this new app called "Andrognito"?
What Is It and What Does It Do
Main Functionality
Andrognito is a security app for Android tablets and smartphones. What it does is that it hides any type of files from your device. In other words, you can hide your pictures, videos, songs, apps and documents. In addition, the app works like a secure vault that is protected by a four-digit PIN. All of the files that you put inside the vault will be kept hidden from your device.
Pros
Simple and easy to use
Nice and neatly designed interface
Fast, stable and responsive
Can hide any type of file such as documents, photos, music, videos, apps, etc.
Uses advanced 3-Layer encryption to hide and lock confidential data
Secures your vault with a four-digit PIN
Features a "Stealth Mode" option wherein the app creates a fake vault to deceive the intruders
Cons
You cannot secure the app using a stronger or longer password
You cannot view images and videos in thumbnail view
No auto-lock function – unless you kill the app, it will remain active and open
Discussion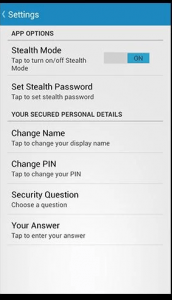 In my previous posts, I've already reviewed a fair number of security apps such as Vaulty and TimeLock. These apps share a similar function and that is to hide certain types of files from your tablet or phone. Unfortunately, the types of files that these apps can hide are only limited to photos and videos. Now, here comes Andrognito – an app that can hide any type of file. Still, the concept is similar.
Just like Vaulty and TimeLock, Andrognito creates a secure "vault" where you can place all of the files that you want to hide. The vault is PIN-protected. You can use a four-digit PIN to secure it just in case someone attempts to view the files that you've hidden. As for the types of files that you can hide, you can hide almost anything may it be your photos, music files, videos, documents, apps, etc.
Another notable feature of this app is its "Stealth Mode". If enabled, the app will prompt you to create another four-digit PIN. It will be called as your stealth PIN. By doing so, you can trick others into logging in to a "fake" vault if ever they manage to guess your stealth PIN. (Hint: Try to make your stealth PIN a bit easy to guess.)
When using the app for the first time, you will be guided by its new user tutorial. Therefore, you won't feel lost. Just follow the on-screen guide and you will be able to learn your way through the app with very little help required.
Once you've managed to hide some files, you can put them to your "Favorites". Other than this, you can't really do much inside the app. It does not allow you to view your hidden files. It will also not show any preview or thumbnail of your videos and images. You can only preview or open files in their pre-lock state.
Other than this, you should also keep in mind that unless you kill or close the app, it will remain active and open. The good thing about this app though is that it helps prevent brute force attacks by automatically locking the app after three failed login attempts.
To sum it up, Andrognito offers a decent choice for users who wish to secure and hide their files. Its best feature is its ability to hide files of any type or format. When compared to other apps, its scope of functionality is much wider. Nonetheless, its current features could still be improved. It would also be great if this app could add thumbnail support for images and videos.
It should also be noted that this app is still on beta mode.
Conclusion and Download Link
Andrognito is a good app for hiding files of all sorts. It will help you feel at ease especially if you have sensitive or personal files that you do not want to show to others. It is also stable and responsive enough for you to use on a regular basis so go ahead and check it out.
Price: Free
Version reviewed: 1.1.0
Requires: Android 4.0 and up
Download size: 3.1MB
Related Posts