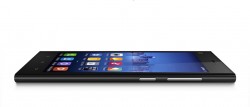 Want to root your Xiaomi Mi 3? This guide will help you accomplish just that!
Disclaimer: This guide is intended as a helpful "how to". Ashraf and dotTech are not responsible for any gain or loss (including but not limited to bricked devices) incurred as a result of following this guide. Root your device at your own risk. Rooting may void your warranty.
REQUIREMENTS
Don't forget that rooting your device will void your warranty.
This will work for the WCDMA Philippines, WCDMA India, WCDMA/CDMA China, WCDMA HK, WCDMA Taiwan, WCDMA Singapore and WCDMA Malaysia versions of the Mi 3.
BEFORE WE BEGIN
Download the Official Developer ROM, rename the file to "update.zip" and copy it to your device's SD card or internal memory.
HOW TO ROOT THE XIAOMI MI 3
To root the Xiaomi Mi 3, follow the steps below:
Launch the Updater and press the menu button.
Select "Update package".
Select the "update.zip" that you copied to your device in the previous section.
Select the Update button to begin the flashing process.
Once it has completed updating, select "Reboot now".
Open the Security app on your device and then select Permission.
Enable "Root Permission".
Your device has successfully been rooted, congrats!
CONCLUSION
To verify that you've successfully rooted the Xiaomi Mi 3, you can download Root Checker from the Play Store to verify it. Enjoy your rooted Xiaomi Mi 3!
[via TechnoBuzz]
Related Posts