By disabling in-app purchases in Android, you can prevent any unwanted or uninformed purchases. Like, for example, you are letting your kid use your device to play games. Sadly, those games offer in-app purchases so your kid gets tempted to buy some without being fully aware of its consequences. Unfortunately, the purchase has been made. There's nothing that you can do to get your cash back.
Well, you could've prevented it if only you knew how to disable or block in-app purchases on your Play Store account. To do this, you simply need to follow the steps listed below.
How to restrict, block or disable in-app purchases in Android
The Steps
On your Android device, launch or open Play Store from your home screen or app drawer.
Once you're on Play Store, simply tap the menu button that's located on the upper-left corner of your screen. Alternatively, you can just swipe your screen from left to right (start swiping from the left border). This will open your Play Store menu.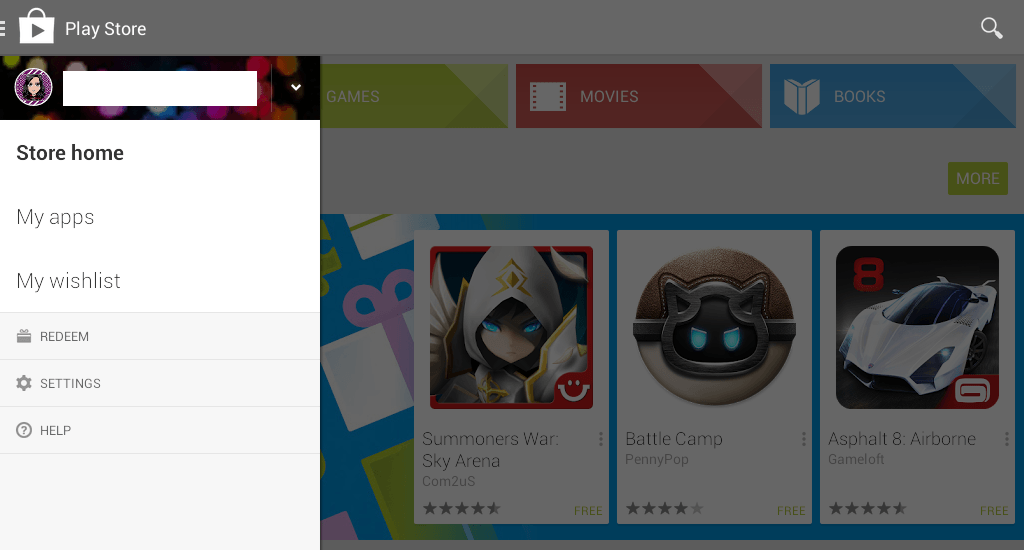 Once you see the menu, just go to "Settings" and then scroll down to "User Controls".
You will see a list of options. Just choose "Require password for purchases".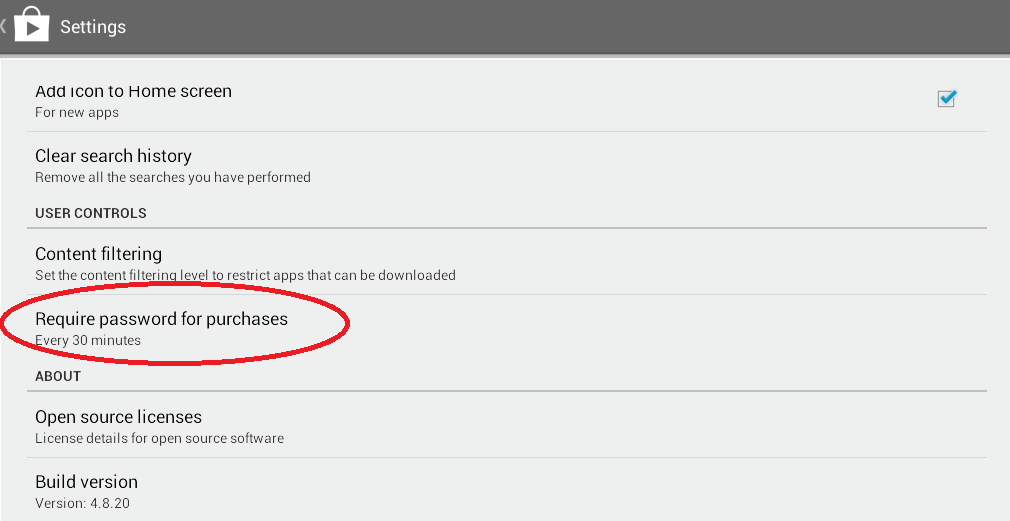 A "Require password" dialog will appear and you will be asked to make a selection. You can choose to enable password for all purchases or for a specific time interval (every thirty minutes). You can also choose "never". The latter option is not really ideal since anyone can make a purchase on the Play Store using your device even without your permission.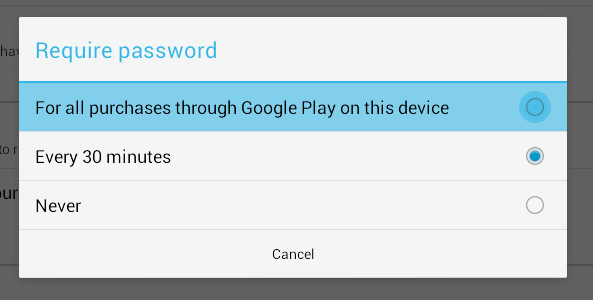 Since you need to restrict your in-app purchases, choose the option for restrict password for "all purchases through Google Play on this device".
Confirm your selection by typing your Google password. This is the password that you're using to log-in to your Google account.
So that's it. You're done.
So, every time you make an in-app purchase, you will be asked to enter your Google account password. You can check the record of your in-app purchases via Google Wallet.
Apparently, such option will definitely come in handy if you have games with item shops. The same goes for apps that offer ad-free/premium (paid) versions.
Related Posts