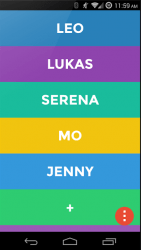 Are you feeling bored? How about sending your friends a quick message on Facebook, WhatsApp or Twitter? Too lazy to type or even send a voice mail? Well, that's not a problem at all. You can just set aside all of your feature-packed messaging apps and just let the "Yo" app do the rest of the work. It's fun, crazy and dead simple!
What Is It and What Does It Do
Main Functionality
What's the hype about Yo? Well, if you still haven't heard of the latest craze, then it's about time for you to get "Yo-ed". Simply put, Yo is a single-tap zero character communication app. It also poses endless possibilities. You just need to be creative enough to think of ways on how to make it more relevant to your day-to-day existence. Too tired to call your kids for breakfast? Just Yo. Too lazy to type a response to your super inquisitive friend? Just Yo. Want a cooler way to say "Yes" every time your mom asks you if you have already finished doing your homework? Just Yo.
Pros
The app is dead simple – just tap your friend's name to send a Yo
Neat and colorful user interface
Supports push notifications
Features a robotic voice that says "Yo"
Easy sign up – just enter your preferred username and passcode
You can add, delete, block or unblock friends from your Yo list
Has a home screen widget
Cons
There's no way for you to see the full details of your Yo log/history
Needs to add an option that would allow users to find and add friends from Facebook, Google, etc.
Discussion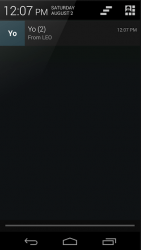 The way how the Yo app works is very simple. After installing the app, you just need to sign up for a new account by providing your preferred username and passcode. The passcode must purely consist of numbers. Anyways, with this app, you're not required to enter your email, Facebook, Twitter, etc. Therefore, you're free to set up multiple accounts.
To use Yo, the first thing that you need to do is to invite or add a friend. A mutual connection isn't needed. As long as you know your friend's Yo username, then you're all set. Just tap the plus button on the app's main screen, enter your friend's username then press "Done".
To send a Yo to a friend, just tap his or her name and that's it. You're done. Your friend will immediately receive a push notification that is accompanied by a robotic voice message. You may call it as the "Yo" robot since it does nothing else but say "Yo". In the same manner, your friend may also be able to send you a response.
Since the app is a zero-character communication tool, you can't really expect much from it but that's what makes it intriguing. Come to think of it, it's only befitting for an app that only sends Yo to attract a diverse number of users. In a world where almost everyone uses advanced messaging and communication apps to connect with people from all corners of the world, a simple "Yo" is what one needs to liven up a busy and boring lifestyle.
Anyways, the app certainly does what it is intended to do. Just don't expect it to go beyond that. After all, if you wish to send messages, there's Facebook, Line, WhatsApp, Twitter, Skype, Google Hangouts, etc. I just find it a bit of a bummer that the app doesn't allow its users to search and add friends from Facebook, Google, etc. It would also be great if it could add more voice options. This way, you can get "Yo-ed" in different sounding voices and tones.
Conclusion and Download Link
Yo is fun. Yo is the future of communication. Without Yo, you will be missing out a major developmental milestone. All jokes aside, Yo is something that could appease your curiosity. It's a dead simple app that is worthy enough to be pitted against the infamous Facebook "Poke". So if you still haven't tried it out, go ahead and experience the fun of getting "Yo-ed".
Price: Free
Version reviewed: 1.11.06.41
Requires: Android 2.2 and up
Download size: 713KB
Related Posts