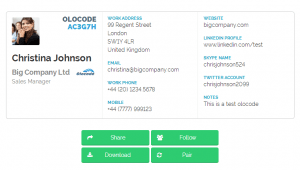 Printed business cards are great for marketing your services and products. However, there's no way for you to easily change or update the details that were already printed. This could eventually create confusion among your clients and customers. To prevent such things from happening, you may opt to use a web-based business card exchange service. One good example of this is "Olocode".
What is it and what does it do
Main Functionality
Olocode is a web-based business card exchange service that aims to provide a more feasible solution to contact chaos. With the help of this web app, you may create a unique six character code. This six character code is your "Olocode". So instead of printing your full contact details, you just need to include or share your olocode. Your contact may then use your unique six character code to search and view your online business card. It's that simple.
Pros
Easy, convenient and practical
Neat and simple UI design
Always up to date, always available
Private and secure – only those who know your six character code can view your business card
You can review and keep track of your contacts in your address book
You can create more than one olocode
You can view your Olocode followers
Helps reduce printing costs
Cons
The business card download link doesn't work
Discussion
To get started, you need to reserve your six character code first on Olocode. After you claim your code, you may sign up for an account and update your online business card details.
In your online business card, you may include your telephone number, mobile number, email address, Skype, Twitter, company, profession, website and work address. You may also include your photo. Once you're done updating your online business card, you may share start sharing your six character olocode to others via email, etc. You may even have your olocode printed. It's totally up to you. Just keep in mind that only those who know your code are allowed to view your online business card.
So after giving your code, other people can easily search for your online business card at olocode.com. All they need to do is to type your code and your business card will be immediately shown. Apart from this, every user who views your business card will be automatically added to your address book. In the same manner, you will also be added to the address book of others. You can also opt to manually add a new contact.
What's great about having an online business card is that you can easily update your personal and contact information. This will also help reduce the cost that you're spending in printed cards. Plus, you can easily access the contact information of others by simply logging in to your account.
All in all, I can say that Olocode offers a simpler way to avoid contact chaos. It's really up to you on how you're able to put it into good use. Functionality wise, the web app works fine except for some minor issues. It is also stable and responsive enough for you to use on a regular basis. Apart from this, the web app also flaunts a neat and simple user interface design. It also makes it easier for you to share or print your online business card.
I also like the fact that the web app flaunts its own address book wherein you can view and manage your contacts. Just keep in mind that Olocode is a relatively new app. Therefore, you might end up convincing others to create their six character codes first before you can establish a mutual connection.
Aside from the web app, Olocode is also available as an Android application.
Conclusion and download link
With Olocode, you can avoid confusion among your contacts. So if ever you need to change your mobile or phone number, you can easily do so without having to print another set of business cards. It is also very easy to use. So go ahead and give it a try.
Price: Free

Version reviewed: N/A

Requires: Works on any web browser (ex. Chrome, Firefox, Safari, Opera, etc.)

Related Posts