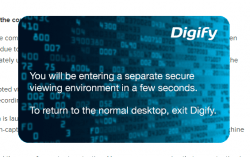 Some files can be freely shared to others while there are also those that are only meant for private viewing. In such cases, you might to think twice before sending your confidential files. After all, your personal information is at stake. Speaking of which, Digify does not only aim to provide you with a secure file sharing service. It also prevents others from exploiting your files through its self-destruct "view-only" technology.
What Is It and What Does It Do
Main Functionality
Digify is a free cross-platform file sharing service. With it, you can send and receive self-destructing files in a secure file sharing environment. That's not all. All of the files that go through its secure portal are view protected. In addition, the said service also helps protect your files from any screen-capture and screen recording software.
Pros
Stable and responsive, neat UI
Sends self-destructing files in a secure and view protected file sharing environment
The sender can "unshare" the file at any given time
Statistics – users can track those who viewed their files
Works with Dropbox – you can use this service to directly send a file from your Dropbox
Copy protection – the files cannot be copied, forwarded or downloaded by your recipient
Blocks any screen capture or screen recording software from keeping a copy of your files (only works on Android and Desktop)
Uses military-grade encryption to protect your files from being hacked – Advanced Encryption Standard (AES-256)
Supports the following file formats – MS Office documents, TXT files, PDFs and image files
Cons
Supports limited file types – you can't send MP3s, RAR files, ZIP files, APKs, etc.
You cannot set a custom self-destruct time
Requires Microsoft Visual C++ 2012 Redistributable
Discussion
Digify is a cross-platform service. Therefore, you can use it on various platforms such as iOS, Android, Mac and Windows. Just keep in mind that in order to send and receive files, both the sender and receiver must have the Digify client installed.
If you want to use Digify on Windows, all you need to do is to download its Windows version (still in Beta). Once downloaded, simply install the desktop app to your system. Upon launch, the desktop app will open a separate secure viewing environment. This means that you cannot access any other program unless you opt to exit Digify.
If you are using Digify for the very first time, you will be prompted to register and activate your account. You also need to set up a strong password. Your password must be made up of at least 1 uppercase letter, 1 lowercase letter and 1 number. It should also be made up of at least 8 characters.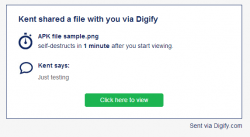 Once verified, you may log in to your secure Digify dashboard. Do take note that the said service will prevent you from taking screenshots of your dashboard. The same goes for the files that you've sent and received through its secure portal.
As you can notice, the dashboard features four main options. If you click "Share", you will be able to share files from your computer. You can also link your Dropbox account so you can directly share your files from the cloud. Just keep in mind that as of its current version, the file sharing service only supports MS Office documents, TXT, PDFs and Image files.
After choosing the file, you will be able to set your desired self-destruct time. The shortest is 1 minute while the longest is 1 month. You can also opt to send your file to multiple email recipients at once.
On the other hand, you can simply go to the "Receive" section to view all of your received files. The file's self-destruct time will only start as soon as you start viewing the file. In addition, you can go to the "Statistics" section to monitor the files that you've sent. This is also where you can opt to "unshare" your files before they self-destruct.
All in all, Digify proves to be a solid option for individuals and professionals who seek to share their data-sensitive files (ex. medical records, personnel files, bank details, etc.) over the Internet in a secure and view protected file sharing environment. It may have some minor drawbacks, such as its limited support for different file formats, but it's definitely safer than simply sharing your files via email or Skype.
Conclusion and Download Link
Digify is definitely a must for users who are often involve with tasks that requires the exchange of confidential or data-sensitive files. It also supports various platforms so it makes it easier for you to securely transfer files from one device to another. So go ahead and give it a try.
Price: Free
Version reviewed: 1.0.41.806 (Beta)
Supported OS: Windows (also available on Mac, iOS and Android)
Download size: 28.5MB
VirusTotal malware scan results: 0/54
Is it portable? No
Related Posts