This article covered a Google Chrome timeline extension that includes thumbnails of previously visited pages. The MyWebSteps add-on for Firefox is not a timeline, but it also displays your browsing history with thumbnail images. Then you can find previously visited pages more quickly.
This is the MyWebSteps add-on page. Open that page, click on + Add to Firefox > Install Now and restart the browser. When Firefox restarts, it opens with a MyWebSteps user manual. Those with Firefox 29 will also need to install the Addon Bar (Restored) extension. Then you can select MyWebSteps options from the add-on bar at the bottom right of the browser window.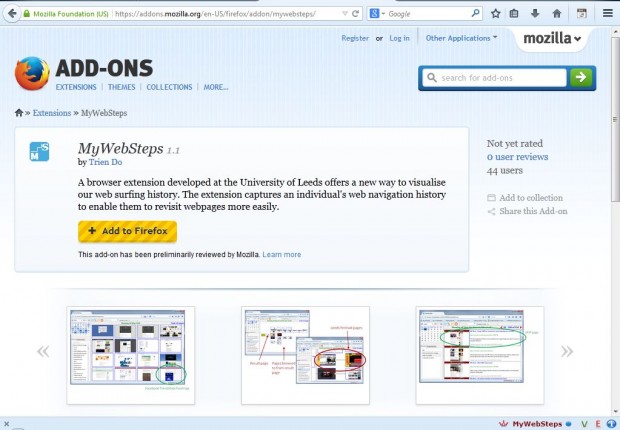 Now click on the V icon on the add-on bar to open the page below. The add-on displays the pages you have visited with thumbnail images. You can use the calendar to browse to a particular day. The Grid View displays the page thumbnails as below.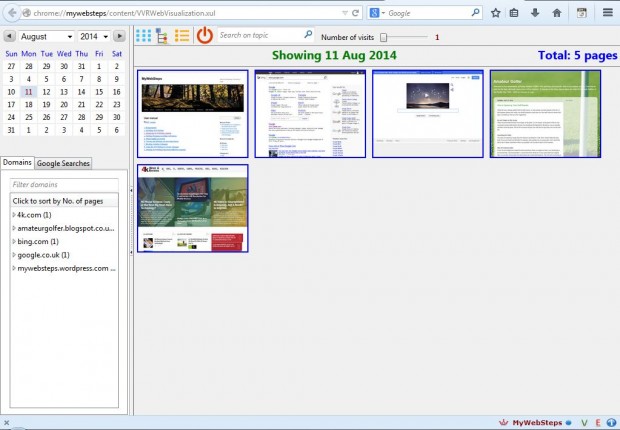 There are two alternative thumbnail views. Select the Tree View icon to show how the domains and sites visited sit together. The first vertical column has a thumbnail for each of the domains you visited, the trailing thumbnails show the websites' individual pages.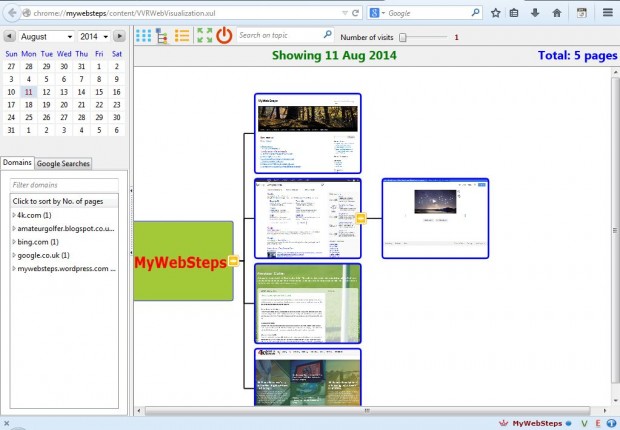 Click on the List View icon to show the website page icons as a list. The list includes extra website details to the right of the thumbnails. Click on the red arrows at the top right of the page to scroll through the list.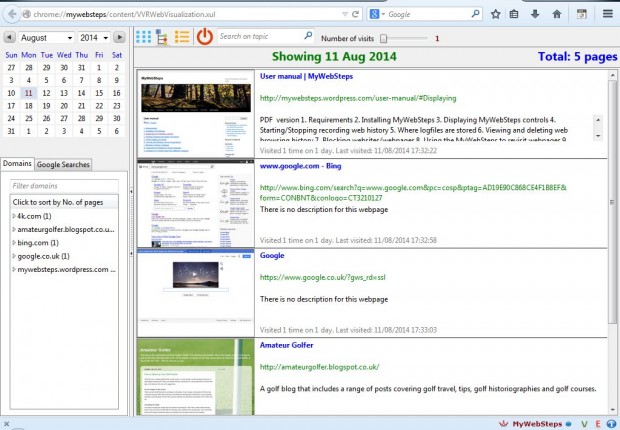 If you're searching for specific pages, enter keywords in the search box at the top of the page. Then you can locate website pages that contain specific keywords. To the right of the search box is a Number of visits slider that you can use to further filter out sites. For example, if you've visited a page many times you could drag the slider further to right to filter out those that have not been visited often.
MyWebSteps also has an Editor from which you can adjust the history stored by the add-on. To open the Editor in the shot below, click on the E icon on the add-on bar. Selected pages listed there for additional details. You can remove pages from the list by selecting them and clicking on the Delete button.
As it shows a larger number of page history thumbnails MyWebSteps is a better add-on than Chrome's History Timeline. With this add-on you can locate previously visited pages more quickly than before. The MyWebPage homepage provides further details for the add-on.
Related Posts