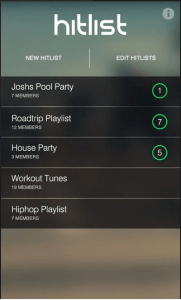 For those who are currently looking for a good Spotify alternative that they can use on their Android device, you might want to consider checking out this app called "Hitlist". With it, you can create and share your music playlists with your friends. It's a fun way to listen to the songs that you and your friends like.
What Is It and What Does It Do
Main Functionality
Hitlist defines itself as a social music playlist app for Android. It's social because it lets you create collaborative playlists that fits every mood, event or occasion. Plus, you can directly link it to your Facebook account. Simply put, it makes it easier for you to invite friends and add members to your collaborative playlists. You can also add music directly from your device or search it up online via SoundCloud. As of its current release, the app supports various music file formats such as MP3, M4A and WAV.
Pros
Easy to use
Users can create collaborative playlists – you and your friends can add or edit the songs listed on the playlist
Users can directly add music from their device or via SoundCloud
Currently supports the following music file formats – MP3, M4A and WAV
Provides basic playback controls – play, pause, next, previous, repeat and shuffle
You can preview each song while editing your playlist
You can directly link the app to your Facebook account
You can download the songs listed on the playlist to your device
Supports unlimited song uploads
You get a notification every time a friend adds a song to your playlist
Cons
Not as smooth and as responsive as I thought it would be – there were a couple of times wherein the app froze while I was trying to play some songs from SoundCloud
No widget support
You can't change the app's theme and viewing layout
Discussion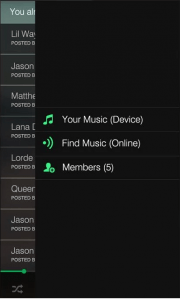 If Spotify has the collaborative option for its playlists, so does Hitlist. As a matter of fact, the ability to allow users to collaborate and create a unified music playlist is the latter's specialty. In short, the Hitlist app focuses more on the collaborative aspect.
Upon installing the app, it will prompt you to log in using your Facebook account. This way, the app can easily gain access to your Facebook friends whenever you wish to invite them to your playlists. After which, you will be asked to create your first collaborative playlist (also known as "hitlist"). Of course, you can assign a custom name to your playlist and you can also add as many songs as you like. In the same manner, the friends that you've invited to your playlist can also add their own selection of songs. This way, it would be easier for you to play the songs from your playlist using your friend's device.
In addition, the songs that you can add to Hitlist can be directly added from your device. If you want, you can also search online for songs that you don't have. With this app, you can search and add songs online via SoundCloud. That's not all. You can also download any song from your shared playlist so you can play them offline.
Functionality wise, Hitlist is very easy to use. You don't need to learn any complex steps just so you could share your favorite songs to your friends. It also supports various music file formats such as M4A, MP3 and WAV. Plus, you get notified every time a friend gets to add a new song to your playlist. It's really as simple as that.
Even so, there are still certain aspects wherein the app appears to fall short. In particular, the app often freezes whenever I try to play a specific song from the list. I had to kill the app a couple of times and it certainly disrupted my listening experience. In addition, the app also lacks variety when it comes to its UI theme and viewing layout. It also doesn't have any widget that you can add to your home screen for quick play purposes.
Conclusion and Download Link
Hitlist is a decent app and it's a good alternative for users who can't use Spotify on their Android devices. It does have a couple of drawbacks but that doesn't make it less deserving for you to try. So go ahead and feel free to check it out. Just keep in mind that the app is still in beta.
Price: Free
Version reviewed: 0.0.6 (beta)
Requires: Android 4.1 and up
Download size: 2.5MB
Related Posts