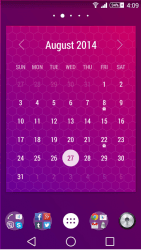 If you go to the Play Store, you can definitely find a lot of calendar widgets for your Android tablet or smartphone. Even so, you still need to make sure that you're satisfied with the features and themes that you're getting. If not, then it's time to look for another. Speaking of which, let's find out if "Month: The Calendar Widget" has the features that you're looking for.
What Is It and What Does It Do
Main Functionality
Month: The Calendar Widget, simply called as "Month", is a free app/widget for Android that lets you choose from its wide range of beautifully designed home screen calendar widget themes. As of its current version, the app offers over 70 widget themes – there are free widgets but the rest must be purchased through the app's theme shop. That's not all. You can also customize and resize its widget to fit your desired size or proportion.
Pros
Easy to use, easy to set up
Offers over 70 beautifully designed calendar widget themes – a mix of free and premium themes
Offers a monthly calendar view and yearly calendar view with event highlights
Works well with Google Calendar as well as your phone or tablet's built-in calendar (device calendar)
The home screen calendar widget is resizable
Configurable settings and options – you can change the first day of the week, calendars to display, etc.
Cons
You can only choose a limited number of free calendar widget themes
If you click on the widget, it doesn't redirect you to your actual calendar app
Discussion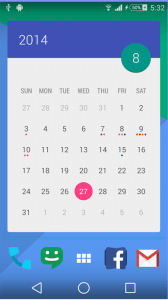 The best thing about Month: The Calendar Widget is that it offers a wide selection of calendar widget themes. There's the transparent widget theme, the Google Now-inspired widget theme, the blue hue widget theme, the pinkish red widget theme and so on. You can also choose among its free and premium widget themes. As for the premium widget theme, they're available at the app's theme shop. You just need to choose the package that you want to purchase.
To use Month, you simply follow the usual way of adding widgets to your device home screen. After which, just drag and place the Month calendar widget to home screen.
As you can notice, every widget theme flaunts a visually appealing and modern design. That's not all. Every widget perfectly blends with your Android's theme and wallpaper. It's also very responsive. If you click on the dates, a message will show up notifying you of any event or agenda that you've set for that particular date. If you want to shift to yearly view, just click on the month title then scroll back and forth to select the year.
Now, if you want to customize or change the theme of your widget. Just select and open the Month app from your app drawer. In the app's settings, you can make a couple of changes to the appearance or style of your calendar widget. You can change the first day of the week and even choose the calendars that you wish to display.
All in all, Month: The Calendar Widget appears to be a very decent choice for users who wish to constantly customize the look and feel of their calendar widgets. It's also great for tablets with multiple background images. With this app, you'll never run out of choices.
The thing is most of its themes aren't available for free. There are only a limited number of free themes that you can use. If you want to get the rest of the themes, you'll need to be totally okay with in-app purchases. Other than this, I don't really have any serious issues or concerns with the app. It just needs to add the option for opening the actual calendar app.
Conclusion and Download Link
If you are searching for beautiful calendar widget themes, then I highly recommend that you check out Month: The Calendar Widget for Android. It has a lot of modern, responsive and elegant free and premium calendar widget themes to offer.Just keep in mind that Month is not a calendar app but a home screen widget for your existing calendar app. So go ahead and check it out.
Price: Free
Version reviewed: 1.0.14.8.31
Requires: Android 4.0 and up
Download size: 5.9MB
Month: The Calendar Widget on Play Store
Related Posts