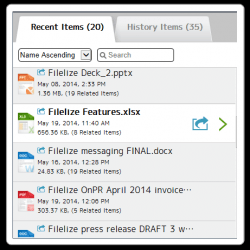 Most of today's cloud storage services support sync. Simply put, you get to keep a copy of your files on your computer while keeping another copy in your cloud storage account. This makes it possible for you to access your files on any platform or device. Nevertheless, you still need to manually move or copy your local files to your synced folder. This is where Filelize comes into play as it can automatically save your recently opened files to your cloud storage.
What Is It and What Does It Do
Main Functionality
Filelize is primarily a desktop client for Windows but it is also available via Web, Android and iOS. With this desktop app, you can automatically save your recently opened files to your primary cloud storage account. No need to copy and paste. No need to move your files and folders. You can keep your files to their original locations and just let the desktop app do the rest of the work. To date, Filelize currently supports Dropbox, Box, OneDrive and Google Drive.
Pros
Easy to use, easy to configure
Automatically saves your recently opened files to your cloud storage account
Provides a hassle-free way to copy or move your local files to your cloud storage
Automatically updates your files
Displays related files from the same folder
Supports file/document filters so you can choose what type of files to save
Supports other platforms such as iOS and Android so you can view or access your files whenever or wherever you like
Supports all types of files such as documents, images, PDFs, music files, video files, etc.
Can also be used to access your recently visited web pages
Cons
Frequently freezes
You cannot link two or more cloud storage services – there's also no way to change or update your linked cloud storage
Discussion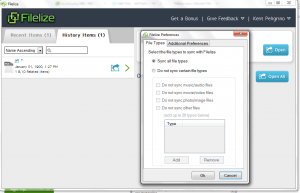 Before installing Filelize, you must first make sure that you are already running the desktop client of your primary cloud service on your computer. For example, if you're using Dropbox, then you must have it installed on your PC first. Once you're all set, that's the time for you to install the Filelize desktop client on your computer.
After installing the said software, you will be required to log in or register. After logging in, the desktop client will start syncing your files and it will silently run in the background. You don't really need to do anything else unless, of course, you opt to open its main interface to view your recent files as well as to update your preferences. You can also notice that a "Recent Items" folder has been added to your Dropbox or Google Drive folder.
So what's next? Just open any file or document on your PC. You can also open a file attachment using your email client (ex. Microsoft Outlook). So every time you open and close a file, Filelize will automatically keep a copy of that file to your cloud storage. This can be very handy especially if you often forget to move or transfer your files from your local folders to your cloud storage folder. If you make some changes to your file, Filelize will auto-update the original file that's stored on your cloud storage. It will also keep a copy of your recently viewed web pages.
With Filelize, you can automatically save any type of file to your preferred cloud storage service. You can save music files, video files, images, documents, PDFs, etc. That's not all. The said software also supports today's most prominent cloud storage services such as Dropbox, Google Drive, Box and OneDrive. You can also access your files on other platforms such as Android or iOS.
All in all, I can say that Filelize offers an effective way to automatically copy, move or save your files to your cloud storage. Performance wise, I can say that it's not that bad. It does what's it's supposed to do but I dislike the fact that it frequently freezes. It's also not that responsive plus there's no way for you to change or update your linked cloud storage account.
Conclusion and Download Link
Filelize can help you solve your file management issues especially if you're someone who keeps on forgetting to save your documents and other important files to your Dropbox or Google Drive. It may have its own set of drawbacks but you can't really tell if it's useful or not unless you check it out.
Price: Free
Version reviewed: 1.0.0.57
Supported OS: Windows XP, Vista, 7, 8, iOS and Android
Download size: 21.5MB
VirusTotal malware scan results: 0/53
Is it portable? No
Related Posts