The Windows product key is a 25-digit code that comes with the operating system. It is required to activate Windows. As such, you cannot reinstall Windows without the product key. If you've lost your product key, this is how you can quickly find it again.
ProduKey is a Nirsoft utility with which we can find the Windows product key, and a few others for Microsoft packages. Open this page and click on Download Produkey with full install/uninstall support to add it to Windows. Then click the ProduKey exe to open the window in the shot below.
The software lists your Windows product key and ID. It will also tell you the product keys and IDs for other Microsoft software such as Internet Explorer and MS Office. It will show you the product keys for the following software:
Microsoft Windows 98/ME
Microsoft Windows 2000
Microsoft Windows NT
Microsoft Windows XP
Microsoft Windows Vista
Microsoft Windows Server 2003
Microsoft Windows 7
Microsoft Windows 8
Microsoft Office 2000 (Only ProductID is displayed)
Microsoft Office 2003
Microsoft Office 2007
Microsoft Office 2010
Microsoft SQL Server 2000
Microsoft SQL Server 2005
Microsoft Exchange Server 2000
Microsoft Exchange Server 2003
Visual Studio
Internet Explorer
Now, save the product key and ID. Click the Save Selected Items disk icon to save the product key details. That saves the product key details to a text file as in the shot below.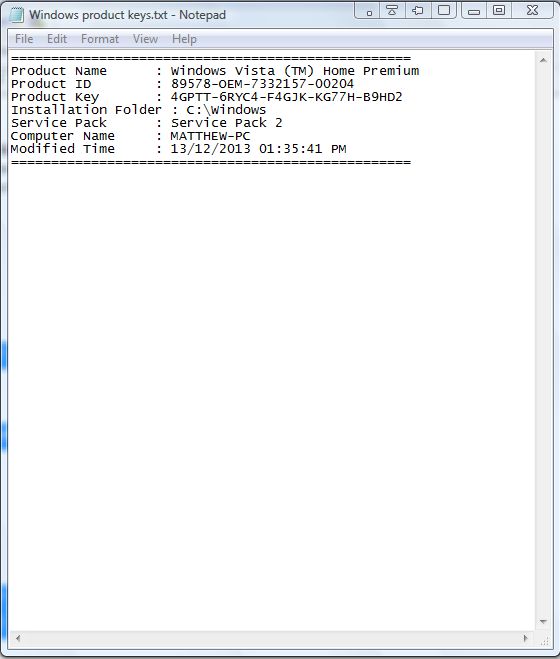 So now you can quickly find the product keys for Microsoft packages. With them you can re-install a variety of software packages.
Related Posts