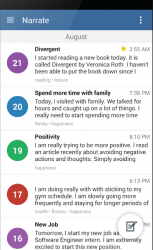 There are so many apps out there that let you take notes. Now, what if you want a simple yet reliable note-taking app that would allow you to add tags and places to your notes? How about a note-taking app that flaunts Google's new "Material Design"? Well, if that is the case, then you might want to check out this app called "Narrate".
What Is It and What Does It Do
Main Functionality
Narrate is a free note-taking app for Android that flaunts Google's new Material Design UI – the UI design of Android L. Apparently, it looks good. Plus, it also flaunts other notable features such as its built-in calendar, Google Now's "Note to Self" command integration, entry stats, tags, location, search filters and so on.
Pros
Smooth, stable and responsive "Material Design" UI
Google Now's "Note to Self" integration
Built-in calendar
Entry statistics – number of days, number of entries, number of places
Search filters
Supports Passcode Lock – you can lock the app using a four-digit PIN or passcode
Users can add tags and location to notes
Users can quickly edit and modify their notes/entries/journals
Users can add notes or entries to "favorites"
Markdown support
Cons
Users need to upgrade to Pro if they want to enable the app's Sync to Dropbox and Sync to Day One option
Does not automatically convert text URLs into links
You can't backup your notes or entries to your local storage
No home screen widget support
You can't lock individual notes – you can't also use a password instead of a four-digit passcode
Discussion
When it comes to UI design, Narrate certainly looks good as it takes on Google's new "Material UI" design. Not only that, the app is also very stable and responsive. It also flaunts user-friendly options so you won't have a difficult time figuring out how it works.
Just like other note-taking apps for Android, Narrate lets you take notes of all sorts. You can create journals, events, agendas, etc. You can also add tags and location to your notes so you can easily sort them out. You can also use the app's built-in search and content filter tool to find specific journal entries and notes.
Apart from this, Narrate also flaunts a built-in calendar so you can easily look for entries under a certain date. It's great for recalling upcoming events such as weddings, birthdays and seminars. In addition, the app also makes it easy for you to switch views between your actual entries and your calendar. It even provides statistics for your total number of days, total number of entries and total number of places.
If you want to secure the app to prevent unauthorized users from viewing your notes and journal, you can opt to activate its passcode lock feature. With passcode lock, you can set a four-digit PIN as your passcode. When enabled, the app will automatically lock itself after a certain amount of time (ex. five seconds, ten seconds).
Another thing that I like about Narrate for Android is its integration with Google Now's "Note to Self" command. So even if you don't open the app, you can still create notes just by using the "Note to Self" command on your tablet or phone. It's really convenient especially when you have some important thoughts or plans that you want to note down and review later on.
All in all, I can say that Narrate is a good and modern note-taking app with a visually appealing user interface. It's also free from any annoying glitches or errors and you can definitely use it on a regular basis. It is also suitable for users of all levels.
It's just that when it comes to its overall functionality, the app can still be improved. It would also be nice if it gets to add more features and options. Like, for example, the app could add a backup option for saving notes to local storage. It also lacks a homescreen widget plus you can't lock it by using a stronger and more complex password rather than a four-digit passcode.
Conclusion and Download Link
Narrate is a visually appealing app for note taking. It's also user-friendly, stable and responsive. It may lack in certain aspects but it also flaunts some good and noteworthy features such as its option to sort out notes by tags as well as its integration with Google Now's "Note to Self" voice command. So go ahead and check it out.
Price: Free 
Version reviewed: 1.2.2
Requires: Android 4.0 and up 
Download size: 4.7MB
Related Posts