Let's just say that you have a page or site that you want to check after some period of time. Like, for example, a Reddit thread or an interesting blog post. However, there's no way for you to directly subscribe to it. There's also a possibility for you to forget it if you just put it on your bookmarks folder.
So, what's the best option? Why don't you bookmark it and then set up a one-time email reminder? If you don't know how, simply follow the steps listed below.
How to set an email reminder for single-use bookmarks
Using any web browser, click this link to go to the homepage of "Reminder Bear" – a free web service that lets you create reminders for single-use bookmarks.
Once you're on Reminder Bear's homepage, just enter your email address on the field provided then click "Get Started".

When prompted, simply drag the web app's bookmarket to your bookmarks bar and you're all set to proceed to the next step.

Open another tab then go to a site or forum thread that you want to bookmark (ex. dotTech).
Once you're on that site (or page), click the Reminder Bear bookmarklet on your bookmarks bar and set the reminder time in the overlay panel.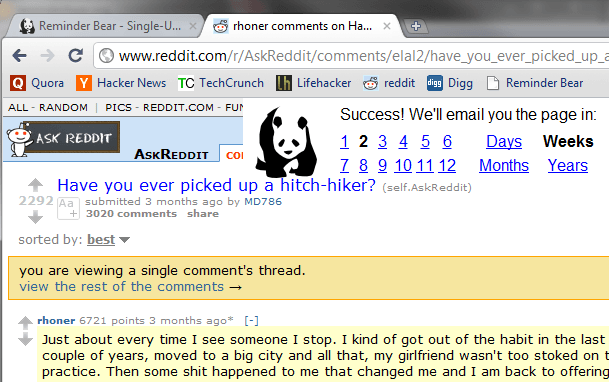 In the overlay panel, you can set the reminder time by selecting the number of days, weeks, months or years. Just keep in mind that you can only select from 1 to 12. So the shortest reminder time that you can set is 1 day while the longest is 12 years. The only downside to this is you can't set a specific date or hour – ex. December 25 at 11:59 PM.
Once you're done setting up the reminder time, you can also add notes. After that, the overlay panel will just disappear on its own. You don't really need to do anything else except to wait for the reminder to arrive on your email.
It's that simple.
Anyways, the good thing about this option is that it works on any web browser. Just remember that once you've received the email reminder, the bookmark will also be removed from Reminder Bear. It also won't be stored on your bookmarks folder.
Related Posts