For one reason or the other, I know that we all have had the experience where when we were trying to delete a file or folder, Windows warned us that we couldn't delete the file. Unlocker was made to get around this problem.
COMPATIBILITY
Unlocker is freeware which is compatible with Windows 2000 / XP / 2003 / Vista / Windows 7.
HOW TO SETUP UNLOCKER
You must first download Unlocker from here. A portable version of Unlocker is also available. As usual, simply open the .exe file, open it, follow the prompts and you're on your way. In the case of the portable version, simply extract the .zip file to the location of your choice and run the executable file.
FEATURES
On the developer's website, the following scenarios are outlined for when the use of Unlocker is applicable:
Cannot delete Folder: It is being used by another person or program. Close any programs that might be using the file and try again
Cannot delete file: Access is denied
There has been a sharing violation
The source or destination file may be in use
The file is in use by another program or user
Make sure the disk is not full or write-protected and the file is not currently in use
In order to make use of Unlocker, right-click on the problematic file or folder and select Unlocker from the drop-down menu.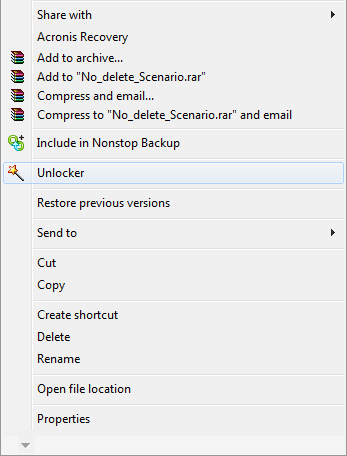 On opening Unlocker you will be presented with a screen such as the one below which shows the process(es) blocking the file or folder from being deleted.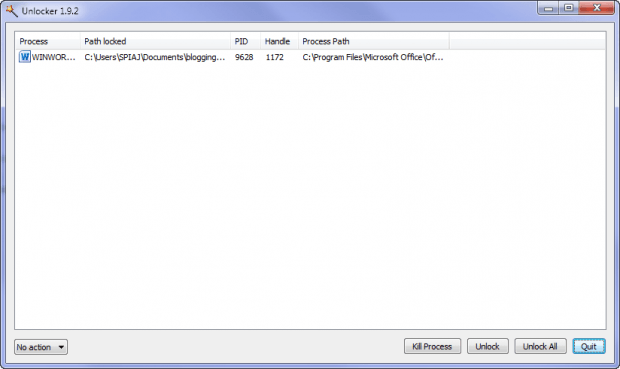 From this window you can select the following options:
Unlock
Unlock All
Kill Process
In the bottom left had corner there is a drop-down menu with the following actions which can be carried out after successfully 'unlocking' a file. These actions are as follows:
No Action
Delete
Rename
Move
Copy
Simply choose your desired combination of actions and your problematic file/folder should be now deleted, renamed, moved or copied as desired.
Please note that this functionality can also be accessed by opening Unlocker from with the Start Menu. The process will only differ in that you will have to browse for the file/folder you want to delete/rename/move/copy.
CONCLUSION
Unlocker offers a solution for a problem which often leaves us scratching our heads and it is relatively simple to setup and use. Although it is convenient to have access to Unlocker's functionality it should be used with discretion. With that being said, happy deleting!
Related Posts