There are various software packages you can customize the keyboard shortcuts in Windows with. Among them is Numpad Transformer, which tranforms the Numpad of your keyboard into shortcuts for copying, pasting, closing tabs and more besides.
This is the NumPad Transformer website from which you can add it to the Windows XP, Vista, 7 and 8 platforms. Click the Download NumPad Transformer link to save the software's Zip file. Then right-click on the Zip file, select Extract All and choose a location for the extracted folder. Click on Setup.exe to run through the setup wizard. Then you should find a Numpad Transformer icon in the system tray as in the shot below.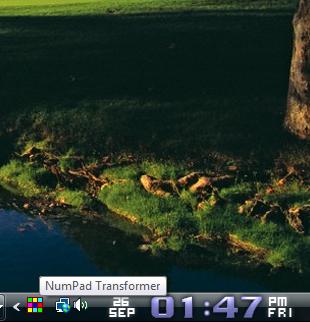 Now it's time to try out some of those new keyboard shortcuts! Open a text document, select some of the text and press Scroll Lock. Then select a new line on the document and press the Pause Break key to paste the copied text. Thus, Scroll Lock and Pause Break are now alternative hotkeys for Ctrl + C and Ctrl + V.
Open a few page tabs in your browser software, and then press the / key. That navigates through the selected tabs of the application. Press the * key on the Numpad to close the selected page tab.
There are also a few more Numpad keyboard shortcuts. Here's the full list:
Scroll Lock: Copy to Windows Clipboard.
Pause/Break: Paste from the Windows Clipboard.
Forward Slash (/): Navigate through the different tabs of the selected application.
Asterisk (*): Close the currently open tab.
Plus (+): Navigate through all the open windows.
Del (.): Shutdown, Restart, Sleep or Log Off the computer (it opens a context menu with those options).
Enter: Minimizes the selected window.
Hyphen (-): Restores minimized windows.
You can also move the cursor with the Numpad keypad. Press the numbers on the keypad to move the cursor. For example, eight moves it up, six to the right, four to the left and two down.
So now you have an entirely new set of Numpad hotkeys! The software's website page also states that you can contact the author for a customized version of Numpad Transformer.
Related Posts