Last October I compared and contrasted two file "unlocking" software, LockHunter and Unlocker. Back then Unlocker was only supported on 32-bit machines whereas LockHunter was available for 32-bit and 64-bit. This, however, has changed because v1.9.0 – the latest version of Unlocker released yesterday – has added 64-bit support to the program:
Unlocker 1.9.0 for 32 and 64 bit – 5/7/2010

-New feature: Complete support for 64 bit operating systems with signed driver.
– New language: Basque thanks to Beñat Antxustegi.
– New language: Galician thanks to Delio Docampo Cordeiro.
– New language: Macedonian thanks to Nikola Trencevski.
– New language: Malaysian thanks to Arjuna Puteraz.
– Improved behavior: No false positives for 32 bit version.
– Improved behavior: Handles are now sorted by process instead of appearing in random order when launching Unlocker.
– Improved UI: Locked DLL show as DLL instead of handle number.
– Improved UI: Fixed same process appearing differently depending on cases.
– Promotional feature: Fully optional eBay shortcuts, Bing or Quickstores toolbar depending on location.
Another interesting point to note is since v1.8.9 – updated on March 8, 2010 – Unlocker now has "promotional" third party stuff included in its uninstaller. In other words, while installing Unlocker you will either be promoted to install Bing or Quickstores toolbar, and eBay shortcuts will be put on your computer (you can opt out of both the toolbars and the shortcuts):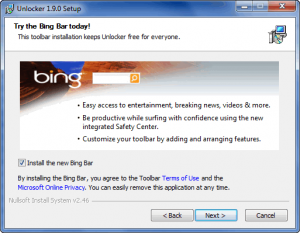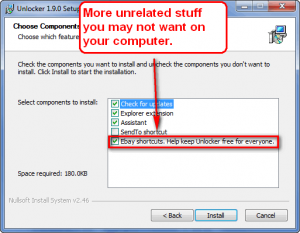 The reason I bring up this information is not necessarily to disown the developer of Unlocker; after all advertisements in program installers are some what of a norm nowadays (look forward to an Ask dotTechies on the topic later today). I bring it up because Unlocker adds a new twist to third party installs – if you opt out of the Bing/Quickstores toolbar you will have to wait 30 seconds before you can proceed with the installer of Unlocker: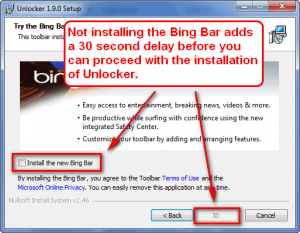 Bleh; I am probably one of the few people who support legitimate advertisements – in the form of opt in not opt out – in program installers, but this behavior by the developer of Unlocker puts a bad taste in my mouth. Back in October I stated I preferred LockHunter over Unlocker, and this new twist just reaffirms my decision.
If you still desire Unlocker, you can grab it from the following links:
Supported OS: Windows 2000/XP/2003/Vista/Win7

Version reviewed: v1.9.0

Download size: About 1 MB for the installer versions, and about 100 KB for the portable version

[Download link – 32-bit version]

[Download link – 64-bit version]
[via Ghacks]
Related Posts