Let's just say that you have a PowerPoint presentation that you need to view or edit. The problem is you don't have Microsoft Office installed on your computer or laptop. Plus, you're in a rush so you don't have time to download and install any software or desktop app.
Well, there's no need for you to fret because you can easily view your PPT or PPTX presentations online. All you need to do is to ensure that you can use a reliable web browser such as Chrome, Opera or Firefox.
How to view PowerPoint presentations online – The Steps
To view PPT or PPTX presentations online, here's what you need to do:
Open your preferred web browser. You can use Chrome, Firefox, Opera, Safari or even IE. It's totally up to you.
Now, go ahead and click this link to go to "DocsPal Viewer" – a free online document viewer that supports many different document formats including PPT and PPTX.
Once you're on the homepage of the said web tool, make sure that you're viewing the "View Files" tab.
After which, simply upload the PowerPoint document that you want to view online. You can upload the file directly from your computer or paste its direct link (URL) in the field provided.
After uploading the file, just click the "View" button then wait while the web tool uploads and processes your PPT or PPTX document. The larger your file, the longer you need to wait.
Anyways, you'll be notified as soon as your PowerPoint presentation is ready. You can view it right within DocsPal so you don't need to open a separate browser window or tab.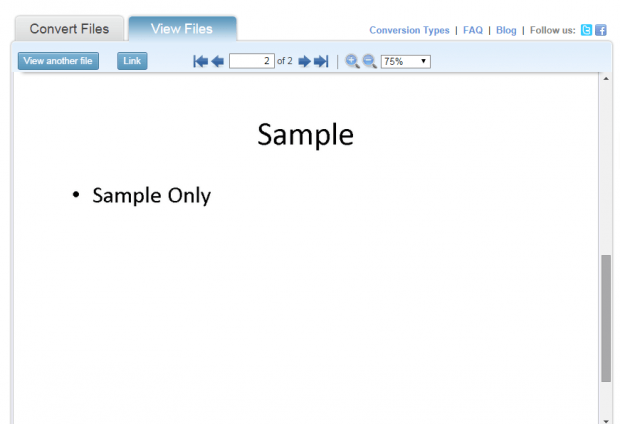 Just remember that the effects or animations that you've applied to your presentation will not be included. You can only "zoom" your presentation or share its direct link to your contacts via email or IM.
Related Posts