To assist in multitasking, some people some multiple monitors; others use virtual desktops. If you don't like any of the previously mentioned solutions (or maybe you like it but are unable to utilize them, i.e. you don't have extra monitors), GiMeSpace provides users with an alternative on how to go about multitasking.
GiMeSpace is a software that, simply put, "extends" your screen – you scroll your screen left/right by moving your mouse to the left edge or right edge. As you scroll your screen, you get more open space to place windows and do your work. Confused? Watch this demo video (created by the developer) which shows GiMeSpace in action:
GiMeSpace comes in three editions: Free Edition, Desktop Extender Edition, and Ultimate Taskbar. The Free Edition can perform three functions – scroll horizontally, lock scrolling, and calling all windows to the current view: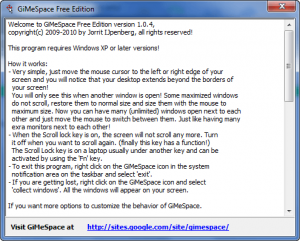 If you would like more features, such as being able to automatically lineup windows, scroll vertically, and control the speed of scrolling, you need to purchase the Desktop Extender Editions ($12.50 USD) or the Ultimate Taskbar ($12.50 USD). However, there are two features that I find are lacking even in the paid versions of GiMeSpace:
I would like to have the ability to "jump" from screen view to screen view using hotkeys, similar to how users "jump" from virtual desktop to virtual desktop. I realize if users want this feature they could use a virtual desktop, but some users may like the scrolling capability yet still want to be able to quickly "jump" from screen view to screen view for quicker multitasking.
I would like the capability to revert back to the original view. Sometimes after scrolling so much one can get lost. Yes, there is a "collect windows" feature that brings all window to the current view. However, I want to also be able to return back to the original view, as opposed to calling all windows.
Last but not least, realize that some programs, when maximized, do not scroll properly. It is a technical limitation because of how those programs are designed.
That said, you can grab GiMeSpace from the following links:
Version reviewed: v1.0.4.6 Free Edition

Supported OS: Windows XP and higher
[via TechSupportAlert]
Related Posts