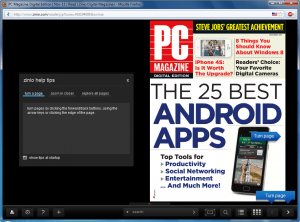 For many nowadays physical printed magazines are a foreign concept. We prefer to get our fix via the web as opposed to printed media. Traditional magazine companies, obviously, suffer because of this change in consumer tastes. To make up for lost revenue, many popular magazines have gone online. To foster purchasing magazines online, multiple different "subscription companies" have popped up. Zinio is one of them.
Zinio is a company that aims to bridge the gap between magazines and web content by offering magazines in a digital format; users can purchase from Zinio many of the popular magazines they have come to know and love, typically cheaper than what printed versions of the same magazines cost. Once you purchase a magazine from Zinio you can read/view it in multiple different formats:
Online, via Zinio's website
Offline on your PC or Mac
On your iPad or iPhone
On your Android device
Zinio in of itself sounds like a handy service if you are into magazines. What makes it even better is until 3/31/2012, all new registrants of Zinio gets free $25 credit to buy any magazine subscription(s) they see fit. (Zinio works on a pay-per-use model so registering on Zinio is completely free.)
[Note to parents: Zinio has an array of magazine choices; this includes some magazines you probably don't want your kids to see or read. There is a "safe view" feature on Zinio but it is easily toggleable on/off and it doesn't even block all the non-kid-friendly mags. I suggest either not letting your kids near Zinio or controlling access to the website.]
To get $25 worth of magazines for free, follow these simple directions:
Visit Zinio and register: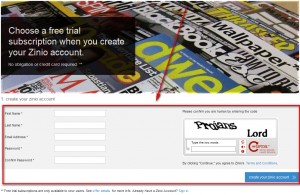 Update: It appears this offer may or may not be USA only. The official Facebook announcement doesn't mention being USA only but dotTechies outside USA report this isn't working for them. There may be a work around, though. Adrain reports if you click on the flag in the top-right corner and select the website for your specific country and then register, you can take advantage of this offer even while outside the USA. Good luck!
After you hit the create your own zinio account button at the registration page you will be asked to pick a trial subscription and set your e-mail preferences: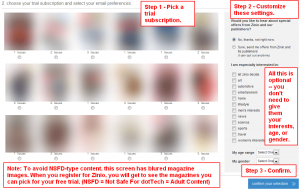 At this second step there are three things to keep in mind.
Firstly, the trial subscription is the standard trial everyone gets when signing up for Zinio. It is not part of the free $25 credit campaign Zinio is currently running. The $25 credit is in addition to the trial subscription you select while registering.
Secondly, by default Zinio signs you up to receive their newsletter. If you don't want it, be sure to select "No, thanks, not right now." from the right hand side at this step.
Lastly, all the settings on the right of this screen are completely optional. You don't have to give Zinio your age or gender if you don't want to.
Once you are done with step 2 and have confirmed your selection, you should see a screen similar to the following: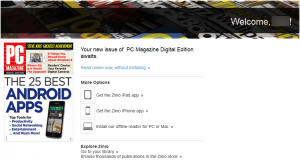 Once you are at the screen similar to the above (you won't necessarily be shown PC Magazine — you will be shown the trial subscription mag you selected) you are done creating a new Zinio account. However, there are still a few more steps you need to do to take advantage of the $25 credit.
Check the inbox of the e-mail address you registered with. Look for an e-mail from Zinio Digital Magazines digitalmagazines@msg.zinio.com with subject of Surprise! Your $25 in Z-Bucks Have Arrived!. If you don't instantly see this e-mail, check your spam box (mine was marked as spam by Gmail) and be patient: It took me about 24 hours to receive this e-mail. Once you find the e-mail open it and you should see a gift card code: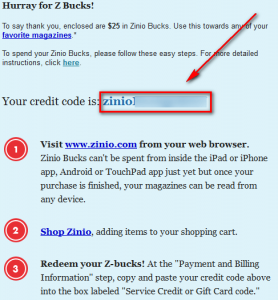 This gift card code is how you redeem the $25 credit. As mentioned in the e-mail you can use this code while checking out in your shopping cart; or, you can redeem the $25 credit without actually buying a magazine (yet) and have it attached to your account for use at a later date. To attach the $25 credit to your account go to the Gift Cards part of Account Settings, enter the code in the Gift Card Code box and hit the submit button:

After you submit the page will refresh. If you see a gift card listed on the screen…

…then you are good to go! You will be able to put the $25 towards any magazine purchases you make on Zinio.
One thing to note is the fact that the gift card code has a shelf-life of 30 days. It is not clarified if you must use the $25 credit (i.e. buy magazines) within 30 days or you must redeem the code and have it attached within 30 days. My guess is the latter, so to avoid losing the free $25, I suggest – unless you plan on buying magazines from Zinio right now – to attach the gift card to your account as described above.
Enjoy (responsibly)!
Thanks PCbasics!
Related Posts