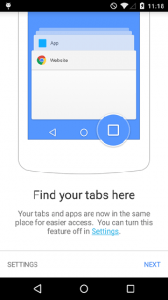 In Android 5.0 Lollipop, the recent apps menu has evolved. So instead of just showing your recently opened apps, it also offers the option to show your opened tabs in Chrome.
So when you get to open Chrome in Android 5.0, a splash screen notification will tell you that your tabs and apps have been merged for easier access. This also means that whenever you open Chrome, you'll no longer be able to see the tab button in it.
Anyways, you might find the new feature quite okay but as for those who still prefer the old ways, you can actually opt to turn off the merge apps and tabs feature. Just refer to the steps below to find out how you can remove the Chrome tabs from the recent apps menu in Android 5.0 Lollipop.
How to remove Chrome tabs from recent apps screen in Android 5.0
Open Chrome on your Android smartphone or tablet.
Press the menu button on the top-right section of Chrome (besides the address bar) then go to "Settings".
Find and select the "Merge tabs and apps" option then make sure that it's switched off by toggling its ON/OFF button (see image below).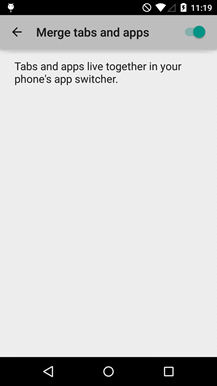 A popup confirmation will appear. Just tap "OK" to confirm.
So that's it. The next time that you open your recent apps menu (a.k.a. your recents screen), you'll no longer be able to see your Chrome tabs. Instead, you can view and access your tabs like the way you used to.
Nevertheless, you can still opt to restore the said feature. Just repeat the steps above then don't forget to enable the option for "Merge tabs and apps".
Related Posts