When you open your web browser, you expect your default homepage  to show up for you, but sometimes instead, your homepage is changed to some random unknown website and embedded with pop up ads. You are frustrated with the chaos of your web browser and keep wondering what you've done to make this change happen. You may not ever know what exactly caused it, but you have to face one truth now, which is that your web browser has been hijacked. Keep reading to learn how to reset your hijacked homepage and take back control of your browser.
WHAT IS BROWSER HIJACKING
This so called browser hijacking — or homepage hijacking — usually sets your web browser's homepage to some designated website (malicious website) or to install some random add-ons.  This happens due to some malicious program through add-ons, BHOs (browser help object), and so forth.
What usually happens to your computer is that your web browser shows abnormalities such as prompting you with windows constantly, homepage website is changed by some random websites and it is hard to change it back to normal, the web browser runs as slow as a turtle, etc. From simply tampering with your search toolbar to hacking into system services, browser hijacking can attack your computer at many levels. Enough is enough! We need to do something to solve this rambunctious nasty hijacker. Taking Internet Explorer, as an example, let me walk you though a simple way to solve Internet Explorer hijacking.
HOW TO FIX INTERNET EXPLORER HIJACKING
Open your IE and select "Tools" on the menu bar.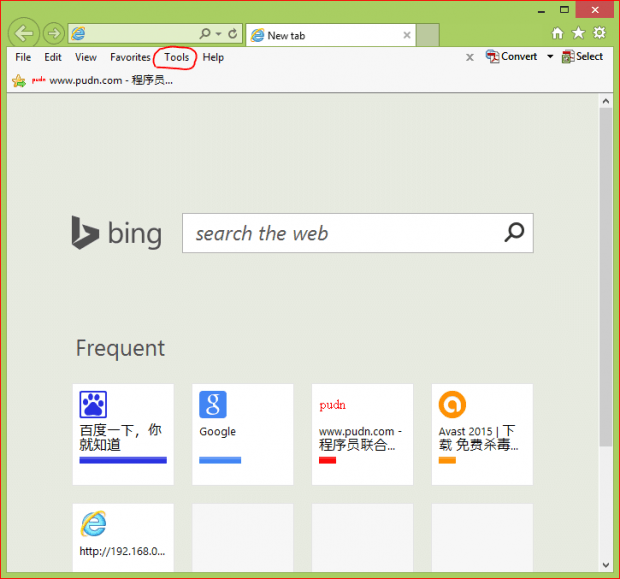 Select "Internet options" and go to the "Advanced" section.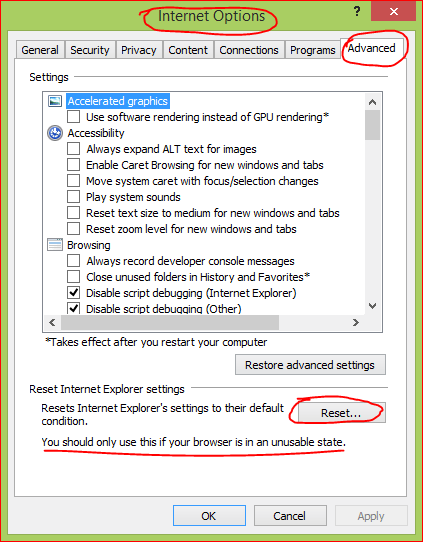 You will see a "Reset…" button at the bottom. Click the button and you will be golden.
CONCLUSION
Only use this technique when your web browser is out of control.  This will reset your Internet Explorer to the factory settings, and you will lose all search history, cookies, favorites, toolbars, etc.  Use this as a last resort when you can find no other way of un-installing the hijackers.
Related Posts