When you want to upload and share PDFs, you usually need to use a decent and secure file host. Alternatively, you can just upload and share your PDF documents via Dropbox or Google Drive. Now, what if you're just borrowing a computer and you don't have quick access to your usual file sharing apps? Is there any way for you to easily upload, share and even view a PDF document?
Well, it won't be a problem for as long as you can use a web browser.
How to easily upload, share and view a PDF online
Open or launch your preferred web browser (ex. Chrome, Firefox, Opera).
After which, click this link to go to "PDFy" – a free online tool that lets you upload and share PDF files online. With this web app, there's no need for you to sign in or register for an account. Plus, your PDF documents will be permanently hosted so you're free to download and view your PDF files at any given time.
Once you're on PDFy, just click the upload button to upload your PDF file. Just remember that your document's file size must not be larger than 150 MB.

Next, you will be asked to select the default privacy option for your file. Choose "Public" to make your file visible to everyone. Choose "Unlisted" to restrict access to your file. As for the latter, your PDF can only accessed via private URL.

Click the "Continue your upload" button to confirm.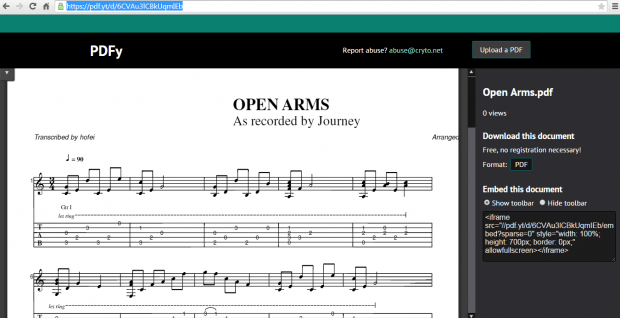 So that's it. Your file will be automatically displayed on your browser via PDFy's built-in PDF viewer. To share the file to others, just copy the URL on the address bar. If you want, you can also use the embeddable version of your PDF to share it directly on your blog or website.
Related Posts