Instead of going through complicated steps just to create printable invoices, you can just opt to create invoices online. As a matter of fact, there are online invoice generators that you can use for free. All you need is to select an invoice template and then you fill in the details required.
Speaking of which, this post will teach you how to quickly create an invoice that you can download and save to your computer as a PDF file. So if you're all set, let's get started.
How to create an invoice online and download as PDF file
Open your web browser (ex. Chrome, Firefox, Opera, etc.).
Next, click here to load and open the homepage of "invoiceto.me" – a free online invoice generator that offers a free and simple invoice template for your business or company.
Once you're on invoiceto.me, you'll see an invoice template. No need for you to register or log in. You can edit your invoice template right away.
Moving on, just click on the required fields to edit and customize your invoice. First, you need to click on the company field to enter the name of your business or company. You also need to provide your business address, business contact number, client name, client email, client contact number, invoice date, etc.

On the lower portion of the template, you also need to edit the table that shows an itemized list for the products and services that you're charging to your client. Do not forget to fill in the fields for Subtotal, Sales Tax, Total, etc.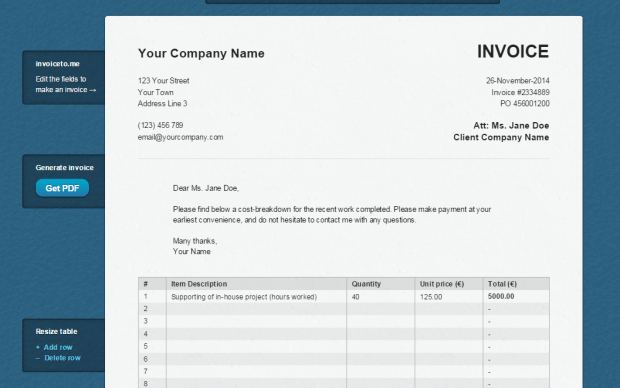 You may also want to include a detailed description or message to your client.
If you want to add or delete rows from your invoice table, you may do so. Just click on the resize table option on the left side of your template.
Once you're finished, make sure to review the details that you've entered.
Lastly, do not forget to click the "Get PDF" button on the left side of your template to download and save your invoice as PDF.
It's as simple as that.
Related Posts