Instagram offers a great opportunity for users to showcase their talent in photography. So if you're an avid Instagram user who wishes to gain more comments and likes for your photos, you should also take your posting time into consideration.
In other words, you need to know the best time to update your Instagram profile. Sure, you're free to post a photo as soon as you're done taking it but believe it or not, your photo could gain more views if you post it during those times where your followers are most active.
The thing is it would be difficult for you to know those times without tracking your Instagram account's statistics. Fortunately, there's a better way to manage and schedule your Instagram posts. So if you want to learn more about it, just read the post below.
How to schedule Instagram posts in Android
On your Android device, download and install the "TakeOff" app from the Play Store. It's a free app that's suitable for devices running on Android 2.3 and up.
Once installed, launch the app. On its welcome screen, tap the "Connect with Instagram" button. If you have trouble logging in, make sure to enter your correct Instagram username and password. Press "Authorize" to confirm.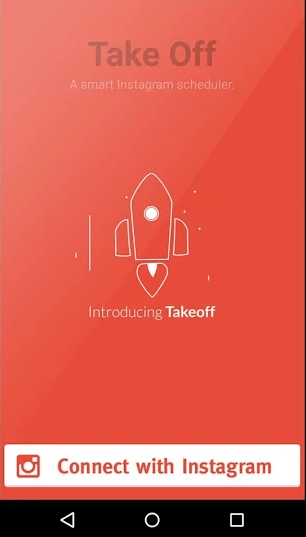 Once you're logged in, tap the settings button to set your preferred number of posts per day. Speaking of which, TakeOff will allow you to schedule up to 10 posts (per day). You can choose as little as one to two posts or an average of six posts per day. It's totally up to you.
So what's next? Tap the blue plus button to upload the photo that you wish to schedule. Don't forget to add some hashtags together with your photo caption.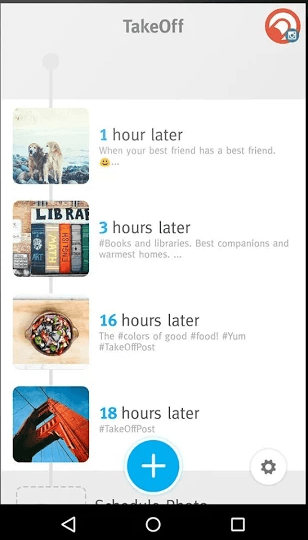 Next, select the accounts where you want to publish your scheduled posts. Tap the check button at the top of the screen to confirm.
That's it. You will get a notification from the app as soon as your scheduled post is due. Just keep in mind that the app will not automatically post the photo for you. You need to manually post your photo. In addition, the posting time will be scheduled automatically. It will be based on the app's "best time" calculations.
So go ahead and give it a try.
Related Posts