There are ways to convert a particular file format to PDF. As a matter of fact, you can choose whether to convert a file using an offline program or a simple web app. It's all up to you. Now if you're thinking to convert a PSD file to PDF without installing any third-party software, here's what you need to do.
How to convert PSD files to PDF online
Open your web browser. You can use Chrome, Firefox, Opera, Safari, etc.
Now, go ahead and click this link to go to the "PDF Tools" page of Egedsoft.
Once you're on the said page, you will see a field where you must upload the file that you want to convert to PDF.
Just click the "Choose File" button on the field to select and upload your PSD file. Remember, the file that you are about to convert must have a file extension of .psd not .doc, .xls, .ppt, etc.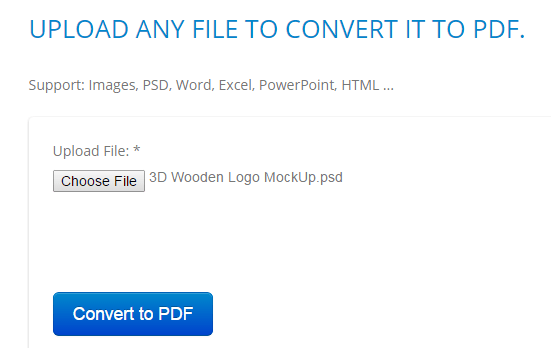 Click the "Convert to PDF" button to proceed.
Depending on the size of the file that you want to convert, it can take a few seconds to a few minutes. Just wait while the web app converts your PSD file to PDF. Do not close the tab for PDF Tools.
After conversion, a "Save as" dialog will appear so all you need to do is to download and save the converted file to your computer.
It's that simple.
Why convert a PSD to PDF?
First and foremost, this option is quite handy if you have PSD files that you cannot directly convert to PDF using Adobe Photoshop. Second, converting a PSD to PDF can preserve the original text and layout of a PSD image so you can view the file in other platforms without having to rely on graphic viewers or image editors.
Related Posts