Nowadays, most users prefer short URLs because they're easier to copy and share to others. Plus, there are a lot of free web URL shortening services such as bit.ly and Google's goo.gl.
In Chrome, there are also free extensions that one can use to shorten URLs. However, most of these extensions are only accessible through their shortcut icons. So if ever you want to shorten a link, you need to click the icon first on your browser's omnibar.
As for those who prefer to use the context menu or the right-click option, you can choose to add a shorten URL option by following the steps listed below.
How to shorten URLs via right-click menu in Chrome
First of all, you need to launch your Chrome web browser from your desktop. After which, click this link to download and install the "URL Shortener – goo.gl URL Shortener" extension.
Once installed, the extension will not only add a shortcut icon to your browser's omnibar, it will also add a "Shorten URL and Copy to Clipboard" option to your browser's right-click (context) menu.
Next, just open a new tab then load any site or page.
Instead of directly copying the full URL of the page from your browser's address bar, just right-click on any empty area of the page to view the context menu.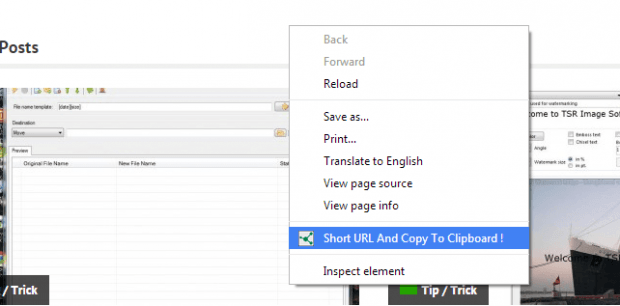 On the page's context menu, select the option for "Short URL and Copy to Clipboard" and that's it. The shortened URL for the page will be automatically copied to your clipboard.
So go ahead and paste the shortened URL to anywhere that you like. You can paste and send it via email, instant message, forum post, website comment, etc.
It's that simple.
Just take note that the above extension uses the goo.gl URL shortening service. Therefore, if you shorten the dotTech.org link, it will appear as http://goo.gl/JpAk.
Related Posts