You can zoom in and out of website pages with the Firefox browser by pressing the Ctrl + and Ctrl – hotkeys. However, the browser has just the one zoom level; and no additional options for zooming in and out. To add extra zoom options to Firefox, check out the Zoom Page add-on.
Zoom Page is an extension that you can add to Firefox from this page. There press the + Free button and restart the browser. Then you'll find a new zoom button on the Firefox toolbar as in the shot below.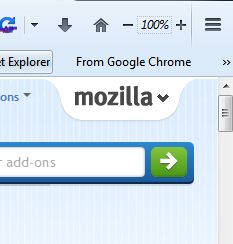 Now click on the zoom button to open the drop-down list below. From there you can select a variety of alternative zoom levels from the page. Alternatively, click the +/- button to zoom in and out.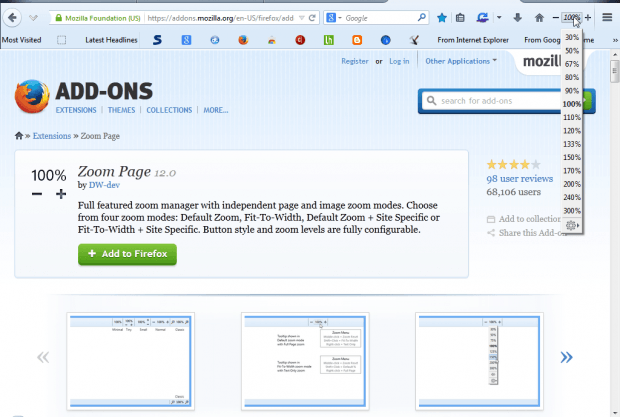 The add-on also provides four alternative zoom modes to select from that automatically adjust the zoom level when you open new pages. They are Default, Fit-To-Width, Default + Site-Specific and Fit-To-Width + Site-Specific. For example, selecting Fit-To-Width will adjust the zoom level so that there are no scroll bars at the bottom of the page. Select the cog icon at the bottom of the drop-down list to expand a submenu with the zoom modes on it as below.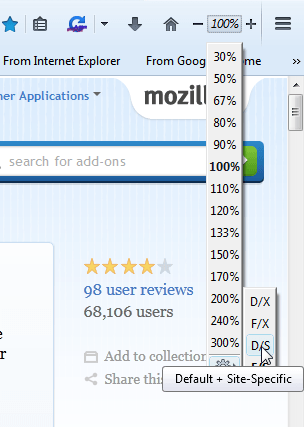 The default zoom mode is 100%. However, we can adjust the default zoom level to open the browser with. To select an alternative default zoom level, click the zoom button on the toolbar and then middle-click to choose an alternative zoom level such as 50%.
For further add-on options, click on the cog icon at the bottom of the zoom drop-down list. That will open the window in the shot below. The window includes four tabs from which you can select options for zoom levels, image zoom and shortcut keys.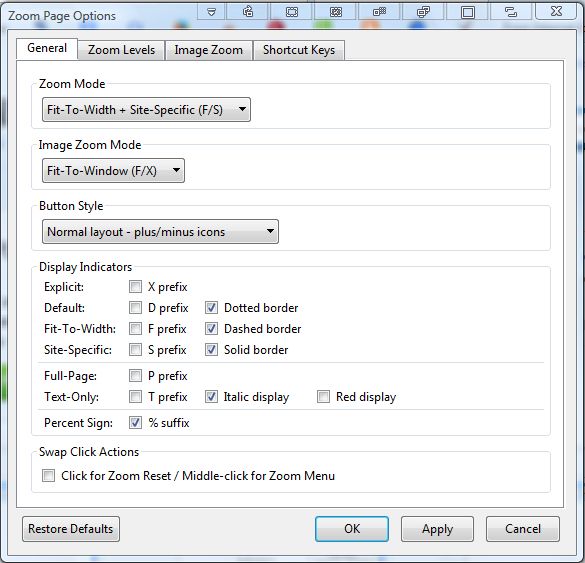 To adjust the zoom level, click the Zoom Levels tab. Then click the Current Zoom Levels drop-down list as in the shot below. From there you can select alternative zoom levels. Then press the Apply button and click OK to close the window.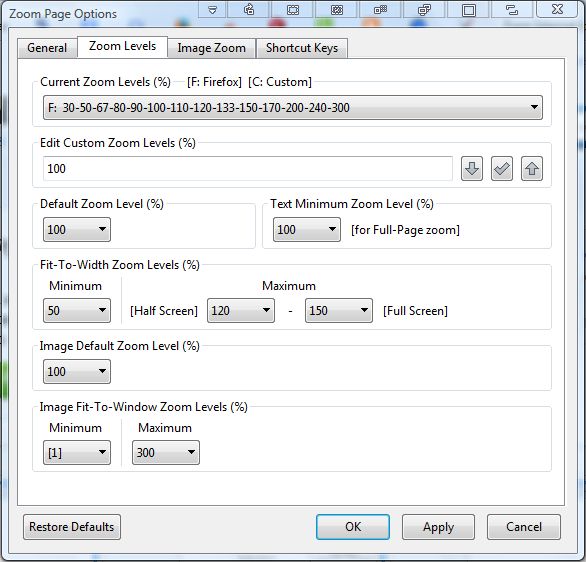 Click the Shortcut Keys tab to open the tab options in the shot below. There you can adjust the add-on's hotkeys by clicking on the pertinent drop-down lists.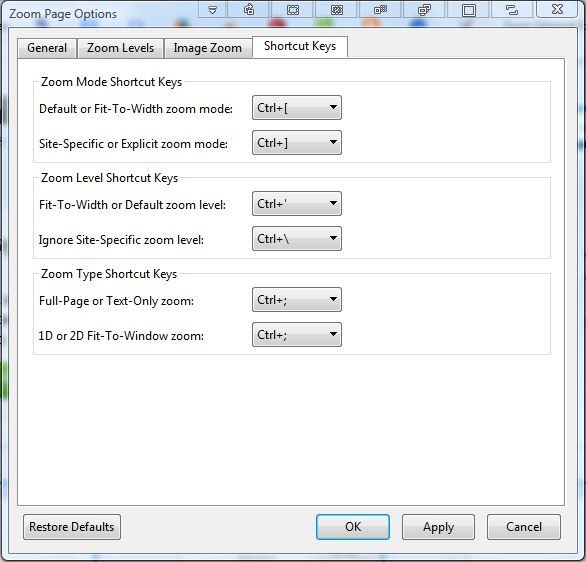 To customize the add-on's toolbar button, click the General tab. There, there is a Button Styles drop-down list that you can choose alternative buttons from. You can also select alternative zoom modes from that tab.
So this is an add-on that has a good variety of options and settings for zooming in and out of pages. The add-on gives you many more zoom options that aren't included with the Firefox browser.
Related Posts