As some of you may know, Windows 10 borrows many features from Windows Phone, such as Storage Sense and Battery Sense. Another feature that's from the mobile OS finally appears in Windows 10 is system-wide text suggestion in on-screen keyboard. This text suggestion feature is available in Windows 8 also but it's limit only in supported apps like Internet Explorer and Facebook. In Windows 10, it is system-wide supported, which means every apps are supported, even traditional desktop programs.
What is text suggestion?
Text suggestion in Windows 10 displays as an extra line above your on-screen keyboard that shows the list of suggested words while you're typing based on your sentence's context. In Windows Phone, this feature can literally learn your words and improve its dictionary. However, we still not know if it can "learn" like that in Windows 10.

How to turn text suggestion on/off?
If you are not typing in text suggestion supported language or you just don't like to have an extra line on your on-screen keyboard, there is an option to turn off this feature.
First, click/tap Start button then type "typing" (without the quotations).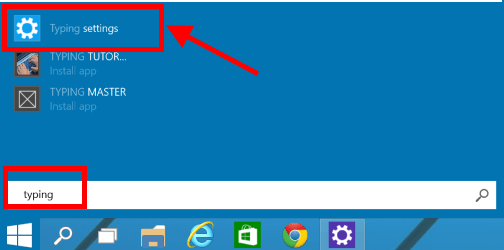 Then select the result Typing Settings in the list.
In Typing Settings window, switch the toggle at "Show text suggestion as I type" to turn the feature on/off.

There are also some useful options for the on-screen keyboard in this window.
Related Posts