TabPreview is a Firefox add-on, covered in this article, that enables you to preview tabs from the tab bar. However, with that add-on you can preview just one tab at a time. To preview multiple page tabs, check All Tabs Restorer 1.7.
Press the + Add to Firefox button on this page and then restart the browser to add the extension to your browser. Press the Ctrl + Shift + Tab hotkey to open a grid of all your page tabs as shown below. You can also drag an All Tabs button onto the toolbar from the Customize page.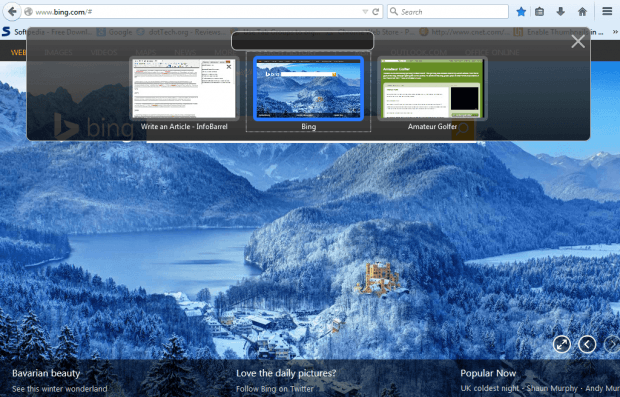 Now you can open your pages from the thumbnails on the grid. Note that the grid also includes a search box. There you can enter keywords to locate more specific page thumbnails.
Click the Open menu and Add-ons options to open the extension page. Then press the Options button beside All Tabs Restorer to open a few extra options as shown below.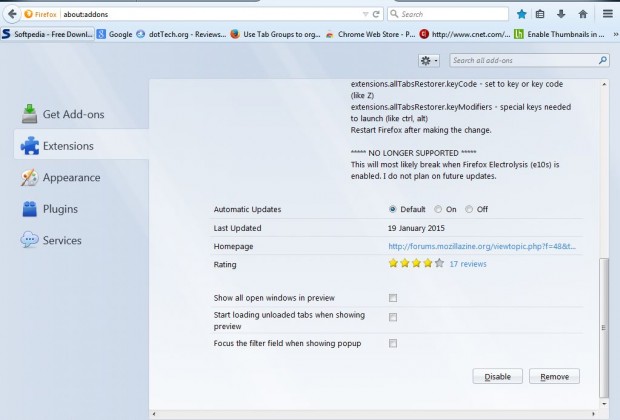 That page doesn't include any options to customize the add-on's hotkey. However, you can configure the All Tabs Restorer hotkey from the about:config page. Enter about:config in the address bar, and then locate the extensions.allTabsRestorer.keyCode and extensions.allTabsRestorer.keyModifiers hotkey settings to set up new keyboard shortcuts for the add-on.
All Tabs Restorer is a handy addition to Firefox. With the add-on you can now open thumbnail previews of all the tab pages. Its search box tool will also come in handy if you have lots of page tabs open.
Related Posts