Spotify is a great source of free streaming music. It also features a lot of songs and playlists. You can even stream popular songs from notable singers, bands and artists. With Spotify, you can also save playlists and songs for offline listening. However, you will not be able to listen to these songs outside of Spotify. Furthermore, the "Listen Offline" feature is only available to premium users.
If you are a free user who wishes to download and save some Spotify songs in your device, you can consider doing this simple workaround.
How to download songs from Spotify
Launch your browser of choice (ex. Chrome, Firefox).
Next, go to this link. It will take to you to a free online audio recorder by Apowersoft.
Click "Start Recording". Wait until the app loads. Once it loads, click the Apowersoft audio recorder icon on your taskbar.

Moving on, open a new tab and then go to Spotify Web Player.
Load and play any song that you like.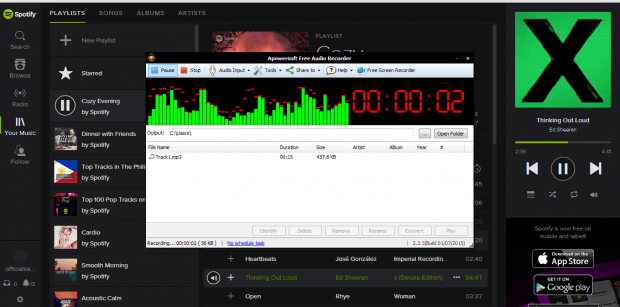 While playing the song, record it using the online audio recorder. Just click "Start" to start recording and then "Stop" to finish your recording. Just make sure that audio input has been set to system sound.

That's it. From the Apowersoft online audio recorder interface, right-click the file or track that you've recorded then click "Play".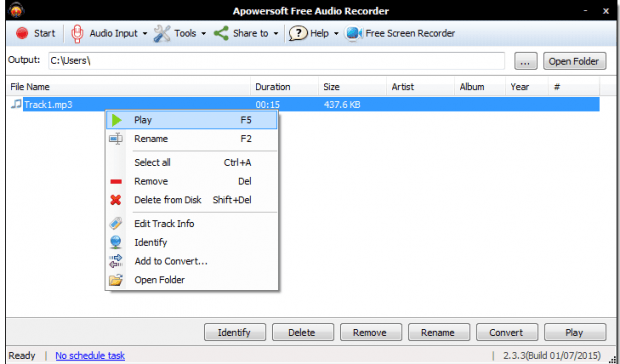 The song will be automatically played on your default music player.
While this workaround does not directly download music from Spotify, it still serves as a great option for users who want to download some songs and then transfer them to another device.
Related Posts