It's undeniable that every new build of Windows 10 Technical Preview brings tons of changes and new things in feature and visual interface. With the release of the newest build number 9926, it looks like Microsoft has not settled with the Start Menu in Windows 10 yet. Let's find out what's been changed for Start Menu in this build.
What's New in Windows 10 TP Build 9926 Start Menu?
In this build, Start Menu has the same structure as it does in previous builds. On the left is the list of apps; and on the right side is your miniature Windows 8 Start Screen. The most significant change is that Start Menu now can go full-screen to become somewhat like Start Screen in Windows 8. There is a full-screen button at the top right of Start Menu dedicated for this task. That also means Start Screen is technically dead in this build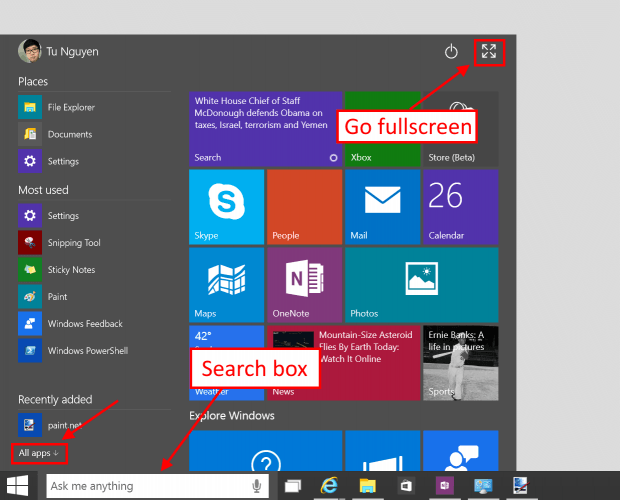 When you're in full-screen Start Menu, you may notice that horizontal scrolling is gone. The Start Screen portion now displays the tiles in vertical and recognizes vertical scrolling only. In this build of Windows 10, you'll see Microsoft has abandoned its unique horizontal scrolling in many redesigned apps like Store, and Photos.
One other big change is the "All apps" list now shows your apps in alphabetical order. And last but not least, you are not able to resize Start Menu like in previous builds. Personally, I prefer the resizable one since I can get more real estate without going full-screen.
How to stop Start Menu from popping up every time you sign in?
Despite the combination of Start Menu and Start Screen, the new Start Menu still popping up when you sign in just like how Start Screen behaves in Windows 8 by default. To disable this, you need to do the following.
Right click/long tap Taskbar and select Properties.
Select Navigation tab in the popup window.
Then place the check at "Don't show Start after I sign in."
Hit OK to apply the change.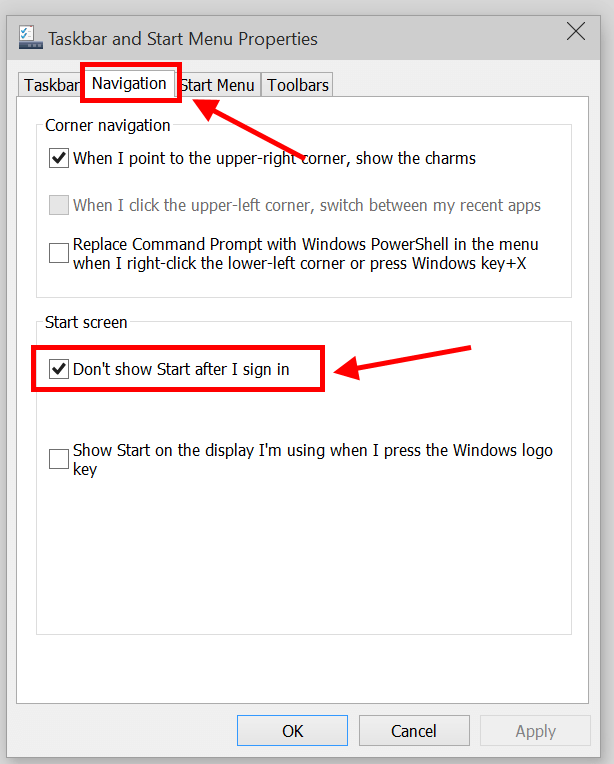 Related Posts