As a beta operation system, Windows 10 Technical Preview changes constantly from build to build. In the latest build 9926, Quick Access is basically the Home location in previous builds. Some of you might already knew that Quick Access/Home location raises privacy concerns among users because it displays your recently accessed items. Moreover, it is annoying that Quick Access is the default location when you open File Explorer from its pinned icon on Taskbar.
Fortunately, build 9926 brings an option to open File Explorer to This PC (My Computer) instead of the default Quick Access location.
To make This PC the default location when you click the pinned icon of File Explorer on Taskbar, you need to do the following:
Open File Explorer.
Select View tab on the ribbon menu. Then select Options on the far left of the menu.

In Folder Options window, the option we want to change is at the very top. Hit the drop-down box at "Open File Explorer to" and change the option to "This PC."
Finally, hit OK to apply the change.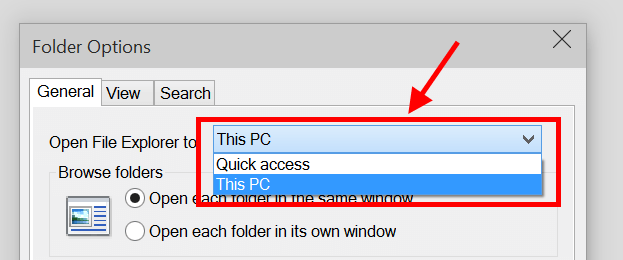 That's it.
Related Posts