When checking out links, you can't really find out what it's all about unless you click it first. If you are checking out multiple links on the same page, then you can opt to open each link in a new tab. It's a good option but it can take up too much space. In such cases, wouldn't it better to preview the links in a popup window instead of tabs? Now, what about opening the links in a popup window that you can resize and drag? If that's what you want, then you can go ahead and read the rest of this post.
How to preview links in a popup window in Chrome
First, you will need to download and install a free Chrome browser extension called "ezLinkPreview".
After installing the extension, it will add its shortcut icon to your browser's omnibar.
If you click on the icon, you can get a split screen view of your current tab. You can also use the second screen to search for other information from the web.
Now, since your objective is to preview links in a popup window, clicking the ezLinkPreview's icon is only optional.
What you need to do is to hover your mouse cursor over the link that you want to preview and wait for the small "EZ" icon to appear.

Next, click the small icon and that's it. You'll be able to preview the link in a draggable and resizable window.
Just place your mouse over the orange bar at the top of the window to drag it. You can also resize it just the way that you do with Chrome's tabs and windows.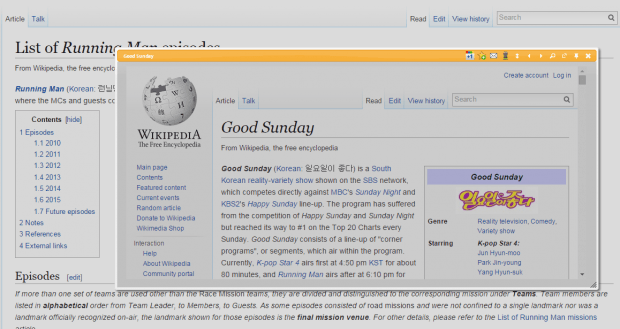 Once you're done viewing the content of the link, just close the popup window by clicking the "X" button.
Do the same for the other links and that's it.
This method is really useful especially when you're doing online research.
Related Posts