Twitter monetizes its platform by including sponsored tweets, sponsored trending topics and sponsored profiles. If you're a Twitter user who wishes to opt out from these types of sponsored content, then you can do the following steps. Just be reminded that this method will only work if you are viewing Twitter in Chrome.
How to remove promoted tweets, trends and accounts in Twitter
First and foremost, you will need to go to the Chrome Web Store page to download "Remove Promotions for Twitter". It is a free web browser extension.
Before installing the extension, visit and log in to your Twitter account. Go to twitter.com and log in using your Twitter username and password.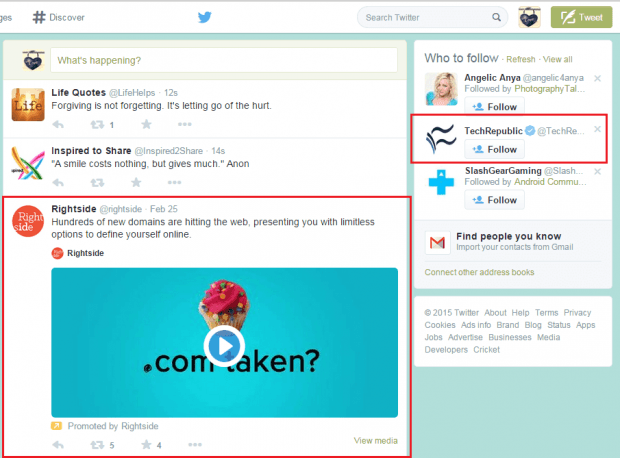 Notice the sponsored tweets and profiles on your Twitter dashboard? They're the ones that you're supposed to hide or remove (see image above).
To remove or hide all of the sponsored content from your Twitter account, just install the Remove Promotions for Twitter extension to your Chrome browser.
After installing the said extension, go back to your Twitter account. Reload it.
That's it. All of the sponsored content will be automatically removed from your Twitter feed and profile. This includes the sponsored trends, tweets and profiles.
By doing so, you can just enjoy using Twitter like the old times. Plus, the said extension is non-obtrusive. It won't add any icons. It also won't delay or hinder your browsing experience.
Not yet convinced? Click here to see how the Remove Promotions for Twitter extension works.
Related Posts