QuickDrag is a Firefox add-on that extends the browser's drag-and-drop functionality. For example, you can open website pages, search with selected text or open images in new tabs by dragging and dropping them. The add-on is a sequel to the Super DragAndGo extension, which isn't available for more recent Firefox versions.
This is the add-on's page on Mozilla website from which you can add it to Firefox. Press the + Add to Firefox button and restart the browser to install it.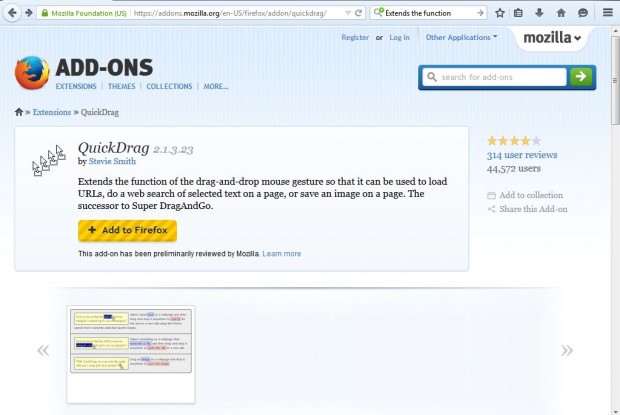 Now open a website page by dragging and dropping it. Select URL text on a page, and drag-and-drop the URL onto the address bar. That will then open the URL in the same tab. To open a URL in new tab, drag-and-drop it over the Open in new tab button.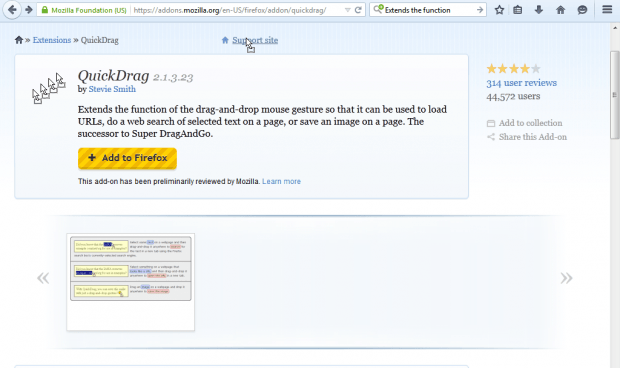 You can also search by dragging and dropping text on a page. Select the text on a page that will be the keyword, and then drag-and-drop it anywhere on the page. That will then open Firefox's currently selected search engine in a new tab and search for the keyword.
You can also open website images in tabs. Left-click an image and drag it onto the URL bar to open it in a tab as below. To open the image in a new tab, drag it over the Open in new tab button.
The add-on has further options that you can select from the QuickDrag Settings. Click the Open menu button and select Add-ons to open the extension page. Then press Options to open the window below.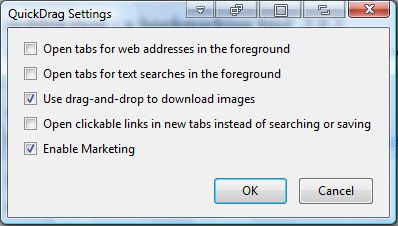 So this is another handy Firefox add-on. Note that if you already have Drag de Go, Easy Drag To Go or Super DragAndGo, you'll need to remove them from Firefox first before running QuickDrag. Check out the support site for further QuickDrag details.
Related Posts