If you have lots of Firefox add-ons, you might have to scroll some way down the Add-ons Manager tab to find an extension. To condense some wasted space on the Add-ons Manager page, check out Cleanest Addon Manager. That's an extension which condenses the add-on list so that you can see more items on it without scrolling.
This is the Cleanest Addon Manager page that you can add it to Firefox from. Press the green + Add to Firefox button to install. Press the Open menu button and click Add-ons to open the page below.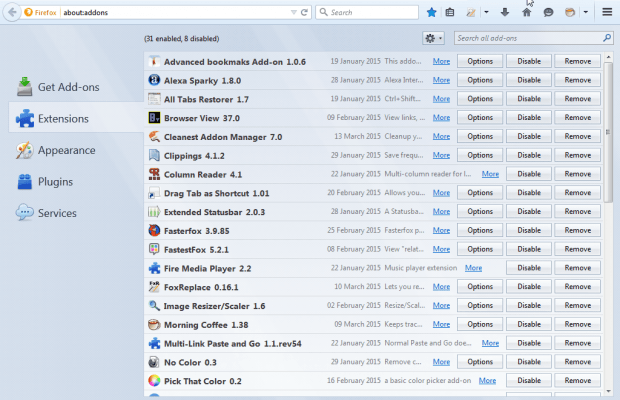 So what you now have is a condensed Firefox add-on page. All the add-on items have shrunk to more fit on the page and reduce overall scrolling. It also tells you how many of the add-ons are enabled and disabled at the top of the page.
The add-on list has four alternative styles that you can choose from by pressing the Options button beside Cleanest Addon Manager. By default, the Adaptive style option is selected. You can also choose Classic, Minimal Adaptive and Minimal options by selecting the Pick a style for addon-list radio buttons. For example, select Minimal to remove the add-on details from the page as shown below.
The add-on's options page includes a few other options. All the check boxes are selected by default. But you can remove things from the page such as the counts of enabled/disabled add-ons.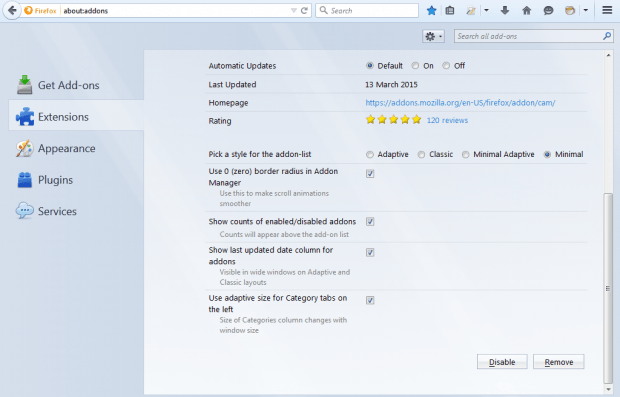 So this extension condenses the Firefox's Add-ons page so that you can find your add-ons quicker. Cleanest Addon Manager is also available for Thunderbird from this page.

Related Posts