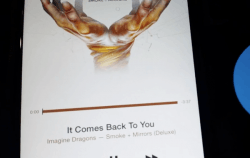 We are now barreling down the road to nearly a decade since the birth of the iPhone. In more recent times, we've seen wearable technology taking over some of the hype since the world of smartphones is becoming stagnant without any other major break through lately with features. One of the keys to a hopeful smartwatch success in the Android Platform is the Android Wear label which joins all different smartwatch manufacturers with the same Android OS from the watch face. Hacking an Android device is always popular with people regularly rooting theirs, just like they do jailbreaking with the fruit companies iPhone, iPad and iPod touch.
Now that we are about to see the release date for the Apple Watch, we no doubt are heading to another war between Google and Apple about which tech giant has the best watch OS. Those arguments might take a slightly different turn when people realize that Mohammad Abu-Garbeyyeh has managed to control the music on his iPhone with his Moto 360 smartphone. Furthermore, some people already know Mohammad as the guy behind the hack for pushing iPhone notifications directly to the Android Wear device.
In this YouTube video, you will see Mohammad demonstrating how to use all the usual buttons for music playback, including pause, play, turning the volume up or down, plus switching between tracks. Not only is it possible, but Mohammad is making it all happen seamlessly like it's already have several OTA updates ironing out the bugs.
Related Posts