Flickr is a community where users can upload all kinds of high-quality photographs. If you go to Flickr, you can find all sorts of photos. There are photos of nature, food, skyscrapers, animals and a whole lot more. You can even get some photos from the site and set them as your background image or desktop wallpaper.
Now, what if you want to display a new Flickr photo every time you open a new tab in Chrome? Well, if that is the case, then simply follow the steps listed in this post.
How to display Flickr photos in every new tab in Chrome
First and foremost, you will need to download the official "Flickr Tab" extension for Chrome. Install the extension to your browser.
After installing the extension, just go back to your main browser tab or active browser tab.
Now, go ahead and press the new tab button on your browser or simply press "Ctrl + T" on your keyboard.
That's it! So, every time that you open a new tab or a blank tab in Chrome, a new high-quality photo from Flickr will be automatically loaded. The photo will also include a simple description or title and it will also display the name of the photo owner.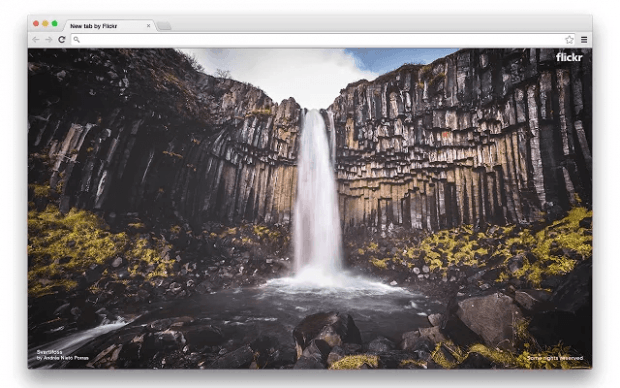 So if you want to load a new photo, just open a new Chrome tab. It's really that simple.
Now, unlike other new tab replacement tools, the Flickr Tab is only limited to showing photos from the Flickr site. If you want more alternatives for customizing the new tab page in Chrome, you can try Momentum or 500px Photo New Tab for daily inspiration.
Related Posts