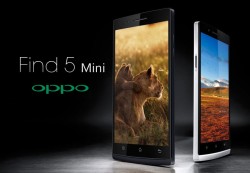 Have you already had the courage to root your Oppo Find 5 mini handset and now wish to return the handset back the way it was before you made any changes? You can do that by following this unrooting guide. Doing so will also restore your device's warranty so you can send it away for free repairs. You should understand that following this guide will unroot so you can no longer use any root-only apps or keep a custom ROM running.
REQUIREMENTS
There's no point following this unless you have yours rooted already.
You should only install the files on the Mini variant of the Oppo Find 5 and no other or else you do risk bricking the device.
BEFORE YOU BEGIN
You must check that the USB Debugging mode is enabled from the Developer Options menu so you are able to connect to the computer.
You need a computer to transfer the stock firmware even though it seems unnecessary. It's the safest way to transfer the file.
Make sure you have enough battery power to see out the guide without the Find 5 Mini handset shutting down. You are not connecting to the computer for long.
HOW TO UNROOT THE OPPO FIND 5 MINI
1. Download the official stock firmware file here.
2. Connect the Oppo phone to the computer with the USB cable.
3. Transfer the stock firmware file (zipped) to the internal storage SD card on the phone.
4. You can now unplug the Oppo phone from the computer.
5. Power down the handset completely and reboot to recovery mode.
6. To do that, hold the Volume Down and Power keys together and release when the screen changes.
7. Now choose the option for applying an update from SD card from the menu.
8. Now upload the stock firmware file you transferred to the internal storage a minute ago.
9. Wait for the file to finish flashing and you're done!
Related Posts