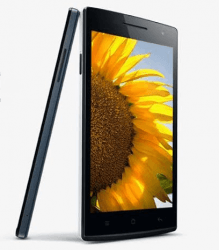 Have you already followed our guide on how to root the Oppo Find 5 Mini device and are now looking to flash a custom recovery image before flashing a custom ROM? If so, we have the guide below that will teach you how to do that. The custom recovery we are flashing is the ClockworkMod recovery–the most popular custom recovery on the world.
REQUIREMENTS
You should have already rooted your Find 5 Mini device.
You should only flash the file below on the Find 5 Mini variant of the phone and not the original full-sized phone. They are completely different and need unique files.
Verify the model number matches up with R827 by navigating to Settings > About Device from the phone.
BEFORE WE BEGIN
You must download the Oppo USB Drivers. You can get those quickly by visiting our page.
You should allow the USB Debugging Mode permissions from the Developer Options menu on your handset. That way you are connecting to the computer. without any issues.
Flashing a recovery that isn't stock does void the warranty. Most of you already have that problem since you should be rooted before flashing the recovery. You can unroot the Find 5 Mini and that will make the warranty work again for this device.
HOW TO INSTALL THE CLOCKWORKMOD RECOVERY (CWM) ON THE OPPO FIND 5 MINI
1. Download the ClockworkMod recovery file you need here to the desktop of the computer.
2. Plug the Find 5 Mini into the computer via USB cable.
3. Copy and paste the CWM file from the desktop over to the internal SD card storage on the phone.
– make sure you don't unzip the file.
4. Download the Mobile Uncle from Google Play directly to the phone.
5. Launch the Mobile Uncle app directly after it finishes downloading.
6. Tap the option "recovery update".
7. Upload the ClockworkMod recovery file you downloaded above.
8. Wait until the file finishes flashing.
9. If your handset doesn't reboot by itself you will need to do that manually before it's ready to work with the custom recovery.
10. It's done. You now should have root access, a custom recovery (CWM) installed and now you are free to flash a custom ROM of your choice.
Related Posts