The omnibox is more than just a simple tool for searching and browsing the web. It can do a lot of things. You can use it to directly open tabs or even search for bookmarks without actually going to your bookmarks folder.
That's not all. You can even use your Chrome omnibox to directly go to a Twitter user's profile without typing the full profile URL. It can be very handy especially if you are viewing multiple Twitter profiles.
How to easily go to a Twitter page via omnibox in Chrome
In Chrome, you will need to download and install an extension called "Omnibox Twitter".
After installing the extension, you will get a confirmation dialog on your browser's omnibox (address bar). Once you see the dialog, then you're all set to visit any Twitter user profile that you like.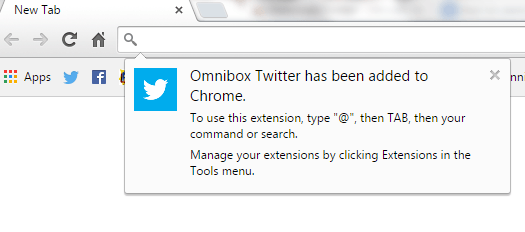 So for example, if you want to visit the Twitter profile page of "Instagram", you no longer need to enter its full profile URL which is https://twitter.com/instagram. Instead, you just need to type "@" at the address bar then press "TAB".
Next, type the profile name of the Twitter user that you wish to visit. So for Instagram, type "@" then press "TAB" then type "instagram" then press "Enter".
So that's it. You will be automatically taken to the Twitter user page that you want. It also doesn't matter whether you're logged in to Twitter or not.

Just do the same for other Twitter profiles.
It's definitely hassle-free and you don't need to keep a lot of links. Just make sure to remember the correct usernames and you'll do just fine!
Related Posts