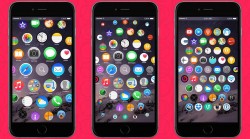 Cydia is the central hub that you need after jailbreaking your device so you can use it to install tweaks, new themes and download options like Winterboard to control how your device will look. Once inside Cydia, there are different repositories or "repos" one can visit to download a tweak or whatever it might be. Back in the day people would sometimes do a tethered jailbreak which means they would have to complete the jailbreaking guide all over again to get access to Cydia. Nowadays we have come along so far that we can even backup our Cydia repos so you don't lose any of the data that you've created after applying the untethered jailbreak. Here's how to do that:
BEFORE YOU BEGIN
You will need to jailbreak your device, and it's wise to follow a guide for a fully untethered jailbreak. You can find our guides from here. Your device must be running iOS 7 or iOS 8, so you want to be jailbreaking that iOS software. Anything older will not work and we don't have iOS 9 yet, but this tweak might be compatible in future.
Make sure you backup your iPhone, iPad or iPod touch before jailbreaking your device so you don't lose any data.
HOW TO BACKUP AND RESTORE A CYDIA REPOSITORY
1. Jailbreak your device running iOS 7 or iOS 8.
2. Open the Cydia app after you are jailbroken.
3. Download the CSources2 Cydia tweak.
4. Open the tweak and follow the on-screen options. After a few taps will you will be able to back up your data.
That's it! Now you can back up and restore your Cydia sources to iTunes or the iCloud.
What's great about the CSources 2 tweak is that you can apply a software update on your iDevice and re-install the CSources 2 tweak. From there, you can completely restore the data you backed up before applying your iOS update.
Related Posts