As you may have already observed, the photo EXIF data is located right beside the lightbox in Google Plus. So whenever you view a photo, you need to click the "Photo details" options first before you can find out the camera used to take the photo, the date it was taken, its focal length, exposure, F number, ISO, etc.
This isn't really a big deal especially if you're just casually viewing the photos that you've uploaded to your Google Plus photo albums. Now, what if you need to check the EXIF data of each photo and you have like a bunch of photo albums? That can be really tedious.
The good thing is there's an easier workaround. You can actually opt to show or display the EXIF data right above the photo in the lightbox. Just read this post to learn how.
How to display photo details inside the lightbox in Google Plus in Chrome
In Chrome, install "G+ Picture EXIF Viewer".
After installing the said extension, you won't see its icon on your browser's address bar unless you're viewing photos in Google Plus.
So what's next? Just go to your Google Plus account and view your photos. If you're new to Google Plus, just click its main navigation button on the top-left side and then on the menu that appears, select "Photos".
Once you see your photos, just click on any photo to view its larger version in a lightbox.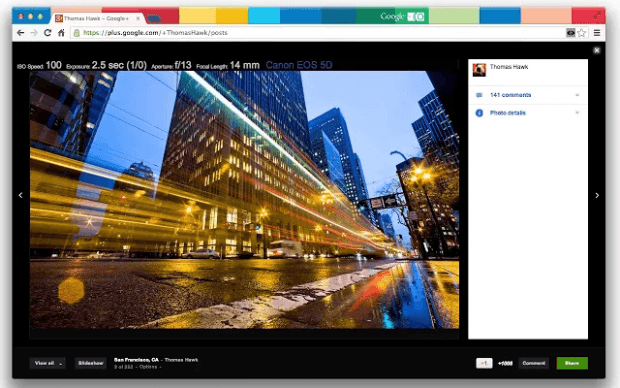 So there you have it! The photo details will be automatically shown right above the photo and alongside the rest of the tools and options in the toolbar.
It's as simple as that.
Related Posts