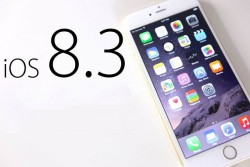 The following is a tutorial on how you can downgrade iOS 8.3 to iOS 8.2. You can also use the same steps to downgrade to a different iOS firmware pre-iOS 8.2 by browsing a different IPSW file, manually from direct download links. However, since most people are running iOS 8.2 before they accepted the iOS 8.3 software update, that's what we are covering here today.
There's a few common reasons for downgrading the OS. If you have recently updated and are finding bugs with the latest 8.3 update, you'll be pleased to go back where you were before with 8.2. Furthermore, Apple have patched exploits in iOS 8.3 and it makes the security even stronger than iOS 8.2. You might know that no third-party developer has released a public jailbreak yet for iOS 8.2 let alone 8.3. By downgrading now you are increasing your chances of having a jailbreak on your device.
BEFORE YOU BEGIN
You'll need to back up your iPhone and iPad data like phone contacts, call logs, SMS texts, videos, music files from iTunes and any other data you have on your device before starting. You can do that two ways: using iTunes or using the iCloud account you are registered with. Nobody will get access to your iTunes account unless i'ts logged in with your details, but if you are paranoid about storing your data on the family computer, you can always install Tunes on your personal laptop and have the data from iTunes there. The iTunes is available for both Windows PC and Mac so there's no reason not to have it.
Important: A full backup won't restore if you took it from iOS 8.3 and are wishing to load it back on iOS 8.2. Shift the photos over to the computer, as well as anything else you don't want to risk losing.
HOW TO DOWNGRADE IOS 8.3 ON IPHONE AND IPAD
Download the IPSW file for your device to the computer. (People wishing for iOS 8.2 IPSW can Google search that and so on.)
Open iTunes.
Navigate over to the Summary page for the device.
Hold down the Shift key for Windows PC and the Option/Alt for Mac, then click the restore option.
The message on the screen will tell you to browse the IPSW file.
Open the file and now it will be flashing on your device.
Wait until it's complete before unplugging from the computer and regain control of your Apple account.
Related Posts