Nowadays, there are countless of app trackers that you can download at the app market for free. The thing is these apps will take up extra space and consume RAM so you might want to be extra choosy when it comes to the apps that you install.
The good thing is, if you have Android, you can easily find, lock or even wipe off the data of your device without using any device tracking application. It's also a good option if you want to easily find your misplaced tablet or phone. Want to know how? Just read on.
How to find lost Android device using Google Search
First off, launch your web browser (preferably Chrome) and log in using the same account that you've linked to your lost or misplaced Android device. For example, if the account that's linked to your device is email123sample@gmail.com then you should also log in to Chrome using that account.
Next, go to Google Search and type "find my phone".
On top of the search results page, there will be a "Find your phone" box shown and it will show you the location of the device that you're trying to find. It will show the address where your device is located as well as the distance in meters.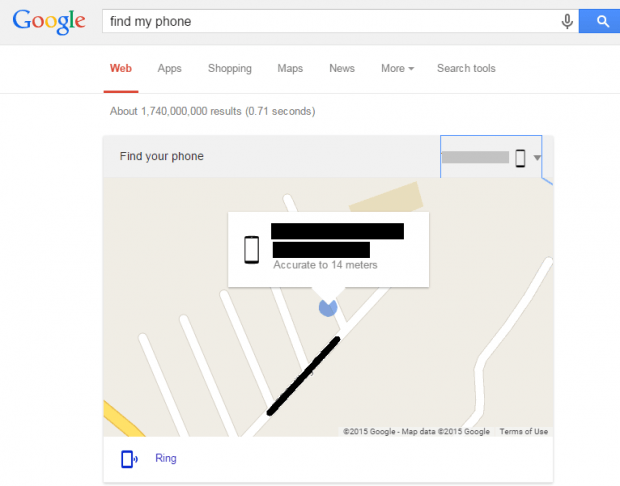 If, in case, you're attempting to find a misplaced device, you can use the "Ring" option. Just click "Ring" to get your phone or tablet to ring in full volume for five minutes. Once you find your phone, just press the power button to stop the ringing.
Additional features
With the new "find my phone" feature, you can even choose to remotely change the lock settings of your device lock screen. You can also choose to remotely wipe off your phone data to prevent others from abusing or stealing your personal information.
Related Posts