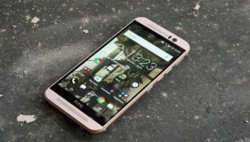 The HTC One M9 is the latest flagship smartphone to come out HTC's range after it was released on the 21st of March, 2015. If you are wishing to break away from the HTC factory restrictions and unlock the internal hardware so you can flash a custom ROM or install more apps from the Google Play Store, you can do that by following the guide after the drop.
REQUIREMENTS
You want to use the SuperSU beta version link which we've provided in the guide and not the normal SuperSU version. The reason being is HTc have made from changes in the system partition. It would've been an issue if it wasn't for the Betas version which works around that.
You want to have the HTC One M9 and it running Android Lollipop. That's the software and firmware you can expect coming out of the box. We do not guarantee this guide works when we eventually witness the successor of Lollipop (starting with 'M').
BEFORE YOU BEGIN
You must unlock the HTC One M9 bootloader.
You should install the latest HTC USB drivers from our page.
Pre-install TWRP Recovery on your HTC One M9 smartphone by clicking through to our guide there.
You are voiding the warranty by following this guide. You should be able to flash an official firmware build and unroot it later which usually restores the warranty for most smartphones.
You should backup the M9 smartphone data before starting. When you unlock the bootloader you must apply a factory reset ,and since this guide requires the bootloader unlocked, you will be wiping the data with the factory reset. Those people with the bootloader unlocked already can be rest assured that their data is safe.
You can take the NANDroid backup during the guide if you prefer that.
HOW TO ROOT HTC ONE M9
Download the Beta version Super SU file here to the desktop of the computer,
Connect the HTC One M9 to the computer with the USB cable.
Transfer the SuperSU beta file to the root of the internal storage SD card.
Now boot the M9 in Recovery Mode.
– Completely Power down. Boot it up by holding the Volume Down key and tapping the Power button once whilst still holding down the Volume Down key.
Now you are in Bootloader Mode. Select the recovery option from the Bootloader Mode screen.
This is the custom recovery you've pre-installed. You can opt to take a NANDroid backup which is like a snapshot of the ROM.
Select the 'Install' option from the recovery menu.
Upload the SuperSU beta zip file.
Swipe to confirm the flashing.
Now go back to the main recovery menu and select the Reboot > System options.
That's it! Now you are rooted and are free to install those root-requiring application from Google Play. You might wish to start by installing the root checker app and make sure that it worked.
Related Posts