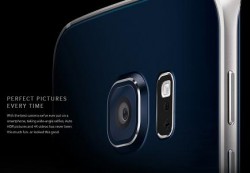 The Samsung Galaxy S6 is arguably the best Android smartphone for taking pictures this year. It's not just a crisp, clean pixel that it excels at either. It also comes with some great features. One of those features is the Samsung Galaxy S6 slow motion video recording. In case you didn't know already, we'll show you how to use that after the drop.
HOW TO RECORD SLOW MOTION VIDEO ON SAMSUNG GALAXY S6
1. Turn on the Galaxy S6 by holding down the Power key.
2. Head to the camera app (from the list of apps).
3. Tap on the camera app icon and tap the "Mode" option inside that's available from the bottom left corner.
4. Choose the "Slow Motion" option from the options.
5. Point the camera lens toward the subject you wish to start shooting and it will begin shooting in the slow motion.
Now head to the gallery to view the video you finished shooting and click to play that video. From inside here you can choose to trim and edit the amount of slow motion and where you would prefer that slow motion footage to begin and end. From that same playback screen you can also choose to export that video which will export the final product after editing.
Related Posts