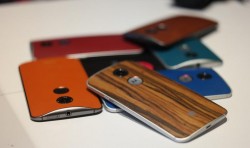 If you are using the original Moto X running Android 4.4.4 KitKat and are a subscriber to the Verizon phone carrier network, you can now gain root access on that by using the MofoRoot tool. As time goes on, often the rooting methods get easier. if you haven't unlocked the system internals for your Moto X yet now isa great time to get things started.
REQUIREMENTS
1. You need the first-generation Moto X (2014) and not this year's model (2015) to follow the guide.
2. You need to be a subscriber to the Big red (Verizon) and not anyone else. The carrier networks come with unique model numbers.
BEFORE WE BEGIN 
1. Your data will be safer than ever before, but you should still backup the current data to be safe. backup the phone contacts, pictures, videos, Settings and other data you want to keep safe. You won't wipe the data unless you choose to do a factory reset to get out of trouble.
2. Even though this is using an app, you are still voiding the warranty by following this guide.
HOW TO ROOT VERIZON MOTO X ON ANDROID 4.4.4 KITKAT
1. Download the Mofoverify application from Google Play and verify that your Verizon Moto X is running the correct firmware version.
2. Once done, head to the MofoRoot website and purchase the rooting tool for $20.
3. The MofoRoot is a proper tool that's 100% trusted. It is not a scam because it's asking for money. If you have the spare coins I recommend purchasing this one as it makes it really easy to gain root access.
4. Download the rooting exploit from the official website link dropped above and you'll get a set of quick on-screen instructions to finish flashing your device.
Related Posts